LAUSANNE, Switzerland — The Russian anti-doping system will go on trial at the Court of Arbitration for Sport next week with two Olympic medals at stake. CAS will hear appeals from the IAAF on Dec. 2-3 against six Russian athletes, the country's track and field federation and the national anti-doping agency, the court said Tuesday. The IAAF is challenging selective timing of bans imposed by RUSADA in January after blood doping was proved. The cases could mean disqualification for two Olympic medallists from the 2012 London Games, men's 50-kilometre race walk champion Sergei Kirdyapkin and women's 20-kilometre walk silver medallist Olga Kaniskina. RUSADA banned Kirdyapkin and Kaniskina for three years and two months but applied the suspensions from late 2012. That excluded the London Olympics from the sanction.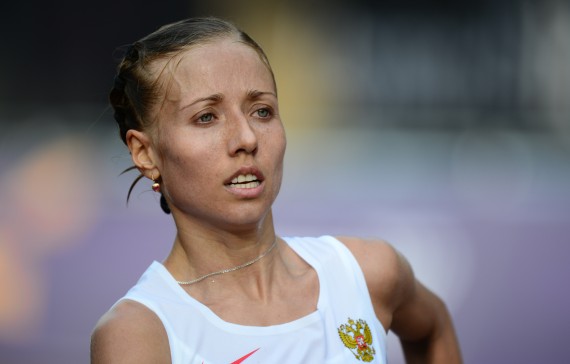 Russia's Olga Kaniskina competes in the women's 20km walk at the athletics event of the London 2012 Olympic Games on August 11, 2012. (Photo: Getty Images)
The case at CAS also involves race walkers Sergei Bakulin, Valery Borchin and Vladimir Kanaykin, plus Olympic steeplechase champion Yulia Zaripova. The IAAF filed its appeals with CAS in March, when a World Anti-Doping Agency inquiry team was investigating allegations of systematic doping. The first inquiry report was published this month and detailed a conspiracy to cover up doping that implicated three state-funded sports bodies — the national track and field federation, RUSADA and the testing laboratory in Moscow. The track body has been suspended by the IAAF, and the anti-doping agency and lab lost their WADA approval. RUSADA's sanctioning policy will be examined by a CAS panel of judges.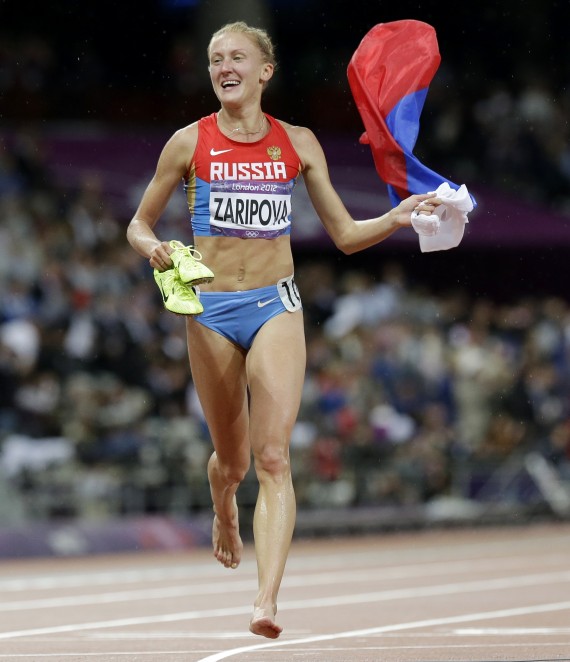 Russian athlete Yulia Zaripova faces losing her gold medal in the 3,000 steeplechase from the 2012 London Olympics after being banned for doping on Friday, Jan. 30, 2015. (Photo: AP)
Bakulin also was banned for three years and two months but kept his 2011 world title in the 50-kilometre walk. Borchin, an Olympic gold medallist at 20K in 2008, was banned for eight years from October 2012 for a second doping offence, while Kanaykin was banned for life for a repeat offence. RUSADA banned Zaripova for two years and six months, backdated from July 2013, and annulled her results for parts of 2011 and 2012, including the London Games. The IOC has yet to decide if it will strip her of the gold medal. Zaripova's current ban expires in January, meaning she would be eligible to compete in next year's Olympics in Rio de Janeiro if the Russian track federation is reinstated by the IAAF. If Kirdyapkin loses his gold medal from London, Jared Tallent of Australia could be upgraded to first place.
Also on HuffPost
ASSOCIATED PRESS

Cameron Spencer via Getty Images

Ian Walton via Getty Images