A controversial painting of former prime minister Stephen Harper in the buff is back on the market.
And, more than three years after the artwork first sparked headlines, the identity of its owner has been revealed.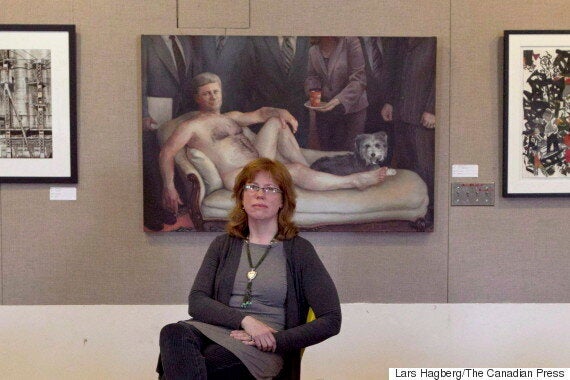 Kingston artist Margaret Sutherland sits in front of her painting of Prime Minister Stephen Harper in 2012. (Photo: Lars Hagberg/CP)
The Edmonton Journal reported Monday that the painting belongs to Danielle Potvin, a retired civil servant who was advised to keep the purchase quiet in 2012 for the sake of her career. The newspaper reports she is now selling the conversation-starting piece to cover home renovations.
Sutherland told The Huffington Post Canada three years ago that the five-foot-long piece, completed in early 2011, was inspired by the lack of dissent in the Conservative cabinet at the time.
"It's called the Harper government, right, and we have the one person out in front and the others are supposed to recede into the background and sing the party song as one voice," she said. "You don't get the feeling they're making individual decisions."
Sutherland said the sole woman in the piece, who serves Harper a Tim Horton's coffee on a silver platter, represented a lack of female representation and elitism in the prime minister's inner circle.
The former prime minister's director of communications Andrew MacDougall took to Twitter with some humour after the image first circulated online.
"We're not impressed," MacDougall wrote at the time. "Everyone knows the PM is a cat person."
But not everyone found the piece funny.
And an Alberta man filed a complaint with the Ontario Human Rights Tribunal in 2012, arguing that the library's decision to show the work amounted to sexual harassment.
Curtis Stewart of St. Albert asked in his complaint how he could explain to his daughter that it was acceptable for anyone to do "a non-authorized nude portrait of the leader of Canada" and put it on display in a public place where children visit.
"I find this a complete form of sexual harassment to me, my family and to all Canadians," Stewart wrote in his application.
The complaint was dismissed.
With files from The Canadian Press, Michael Bolen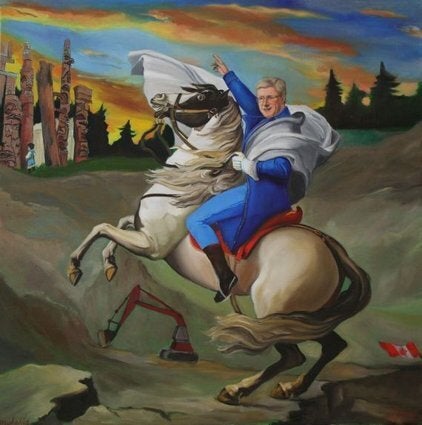 Not-So-Flattering Portraits Of Harper