Cabbage is an inexpensive, nutrient-dense vegetable that is very popular right around the holidays. It's in season from late fall right through the winter months, and is practically made for last minute meals!
Cabbage is a member of the Cruciferae family, along with other vegetables now in season, such as broccoli, kale and Brussels sprouts. There are many different types of cabbage as well, so choosing which to use can be challenging. That's why we're going to walk you through a few of the different varieties of this cold weather vegetable, and show you how to make a simple coleslaw to accompany some delicious, quick and easy chicken tacos!
Red cabbage is very thick with a heavy crunch. It has a sweet, peppery taste making it very popular in salads. Red cabbage is often served as a side dish, and is frequently used as a natural colouring agent, because of its dark purple hue. Red cabbage has twice as much vitamin C as green cabbage, and smoother, more textured leaves.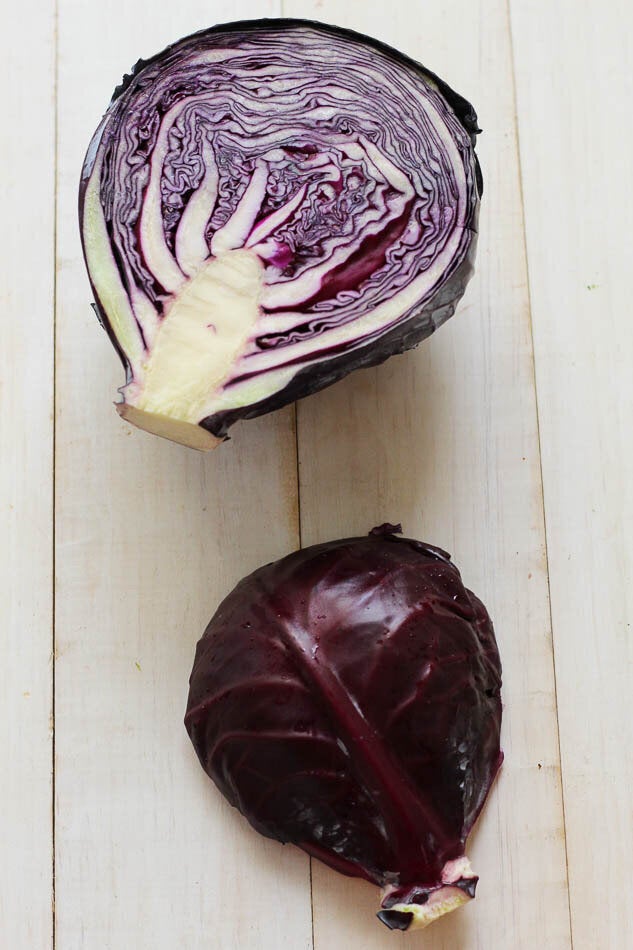 Green cabbage is probably the variety that you are most familiar with. With pale to dark green leaves and a very smooth texture, this variety has a strong flavour that makes coleslaw delicious.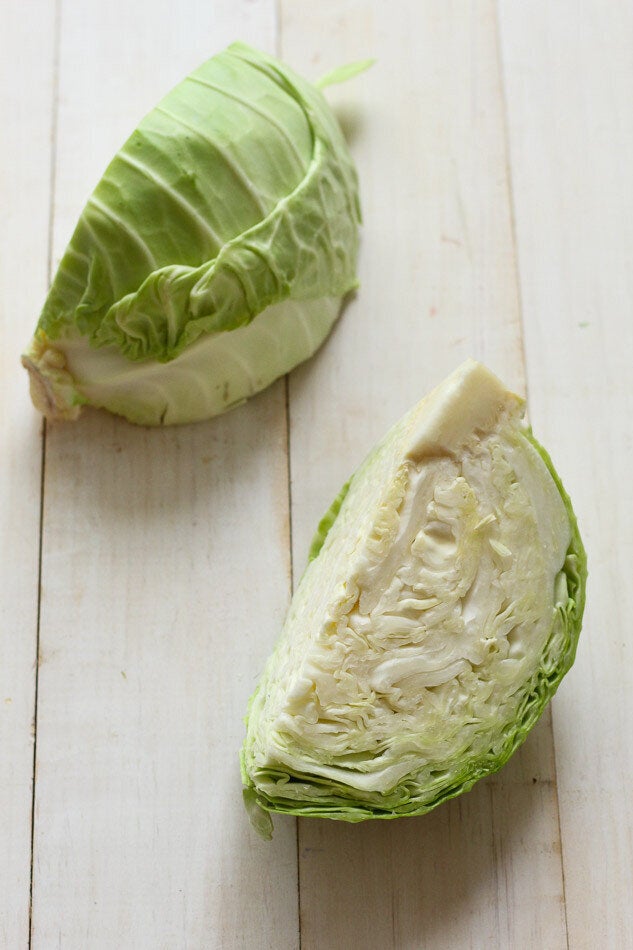 Also known as Chinese cabbage, because of its origins in Beijing, Napa cabbage is far more delicate than red and green cabbage, and has a sweeter, milder taste. Its longer, narrower leaves make it more ideal as a vessel for other ingredients. If you're looking for another way to use cabbage, try our one pan Napa Cabbage Rolls recipe with ground chicken and quinoa for a twist on the traditional, heavy casserole version.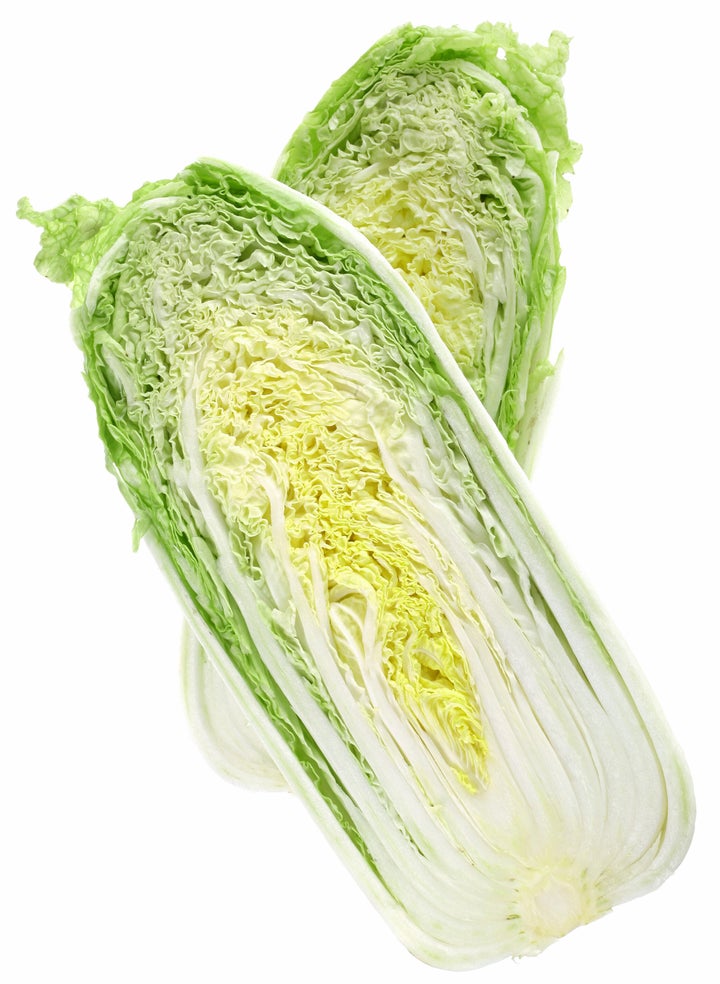 When buying cabbage, look for firm, heavy heads of cabbage that have shiny, crispy leaves that are free of cracks. When you're ready to use your cabbage, remove the outer leaves and don't forget to wash it under running water.
Cabbage is a great storage vegetable and will last in the vegetable crisper (uncut of course) for up to three weeks. There's no excuse for ever letting this vegetable go bad!
To cut cabbage, slice it in half lengthwise and then slice off relatively thin layers depending on how you're using it. Peel off whole leaves if you plan on making cabbage rolls or rolling the leaves around a filling — something different that we definitely recommend!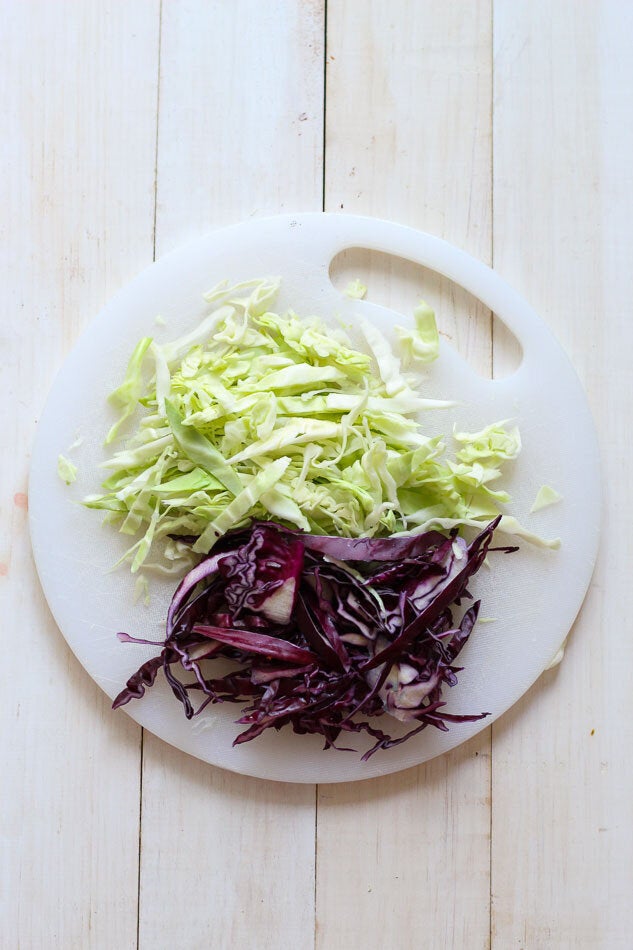 You can stir fry cabbage or roast it in the oven, but the most popular way to use this vegetable is raw in a salad or as a coleslaw. Try this easy taco recipe with red and green cabbage coleslaw!
Easy Taco Recipe with Red & Green Cabbage Coleslaw (Serves 2)
Red & Green Cabbage Coleslaw
1/2 cup sliced red cabbage
1/2 cup sliced green cabbage
Other Suggested Toppings:
Preheat oven to 425°F.
Dice chicken and marinate with olive oil, lemon juice, garlic, chili powder, salt and pepper.
Place chicken in small, oven-safe dish and cook for 25 minutes or until chicken is fully cooked.
Meanwhile, slice cabbage lengthwise into thin strands and place into a mixing bowl. Add in shredded carrots, mayo, vinegar, salt, celery salt and pepper, and toss to combine.
Prepare any additional toppings, and heat corn tortillas in oven until slightly firm.
Remove chicken from oven and top corn tortillas with chicken, coleslaw and other toppings of choice.