Canada's ambassador to NATO has been tasked with helping to "de-escalate what is obviously a tense situation" after Turkey shot down a Russian fighter plane that flew into its airspace on Tuesday, Prime Minister Justin Trudeau told the CBC's Matt Galloway.
Trudeau's comments came hours after Russian President Vladimir Putin declared the move "a stab in the back by terrorists' accomplices" and said there would be "significant consequences."
Turkey countered that it had every right to defend its airspace as a Russian plane flying a mission over Syria in support of President Bashar al-Assad flew near and then into Turkish airspace.
Trudeau called the incident "very concerning" when asked for his response during a sit-down interview in Ottawa on Tuesday afternoon.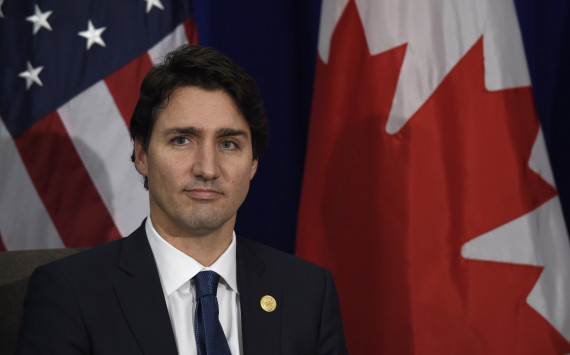 Prime Minister Justin Trudeau listens to a question during a bilateral meeting with President Barack Obama, Nov. 19, 2015. (AP Photo/Susan Walsh)
"We're certainly hoping for calm, for reasonable heads to work through this process," Trudeau told Galloway.
"We've instructed our NATO ambassador to engage in a constructive way with our fellow NATO countries and try to de-escalate what is obviously a tense situation."
Turkish officials said that a Russian Su-24 ignored several warnings as it neared, and then flew into, Turkish airspace during a mission over neighbouring Syria. Russia is providing air support to Assad as he wages a ground war against rebels.
Turkey has been concerned about what it says have been repeated incursions by Russian planes into its airspace. Officials spoke to the Russian ambassador to Turkey about the matter just last week.
Russia "will never tolerate such atrocities as happened today," Putin said Tuesday, and called on the international community to "fight this evil."
U.S. President Barack Obama and French President Francois Hollande, speaking at a joint news conference in Washington, said that while Turkey had a right to defend its airspace, both sides should work to prevent further escalation.
Trudeau said Tuesday that he is "somewhat reassured" that Putin and Turkey's President Recep Tayyip Erdogan met just a couple of weeks ago.
"I know that the kinds of conversations that must be going on at the highest level right now are not easy conversations," Trudeau said.
"But I know that nobody wants this to escalate or to spiral out of control, and I'm certainly counting on Canada to remain a productive voice in making sure that cooler heads prevail and that calm is restored."
Also on HuffPost
Trudeau's International Debut