A few weeks ago, people started setting up camp at the spot. There are now about two dozen tents.
Homeless campers have used the space from time to time in the past, but have always been asked to move on, said Brandon Ellis, who lives across the street.
"Now all of a sudden, it's just be like 'we are not dealing with it anymore'," he said.
"There have definitely been needles found. There's instances where they are disturbing the peace and that is where the disillusion is happening."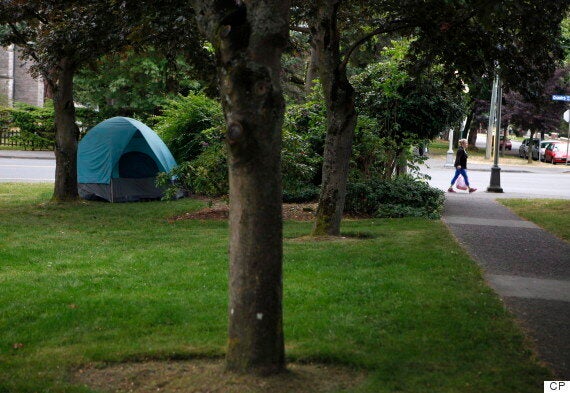 Homeless people, young and old are sleeping in Victoria's public parks, some in tents like this one in front of the Victoria Courthouse in Victoria, B.C., June 4, 2015. (The Canadian Press/Chad Hipolito)
Following a court ruling in 2009, homeless campers have been allowed to stay in Victoria parks as long as they pack up their tents and move every morning.
But the courthouse lawn belongs to the province and that rule does not apply.
Meanwhile, the province said it has no plans at this time to seek an injunction to remove the campers.
A recent ruling by the B.C. Supreme Court involving the homeless in Abbotsford likely has officials treading carefully, said Victoria city councillor Ben Isitt.
The ruling noted the constant displacement of people who are homeless can have a negative psychological impact, he said.
"I think the fact that the province hasn't acted to displace these individuals suggests that they are considering what the Chief Justice had to say and they realize it is more complex than just moving these people along to another outdoor space."
Isitt said he hopes dealing directly with the homeless on provincial property will prompt the B.C. Government to provide more assistance for supportive and affordable housing.
"It's a very direct reminder to the province that they have obligations to provide health services and housing services for these people in need," he said.
In a statement, the Ministry of Technology, Innovation and Citizens' Services said it continues to work with the City of Victoria and Victoria Police to find a long term solution.