Inuit throat singer Tanya Tagaq has taken aim at the Montreal International Documentary Festival (RIDM) for showing a film she says is racist and used her music without permission.
The Polaris prize-winning musician – an Inuk from Cambridge Bay, Nunavut – took to Twitter Tuesday to say she was "disgusted" by the festival's decision to screen Of the North, an experimental documentary by Quebec filmmaker Dominic Gagnon.
Snow, hunting – and vomiting drunks
Of the North is a 74-minute collage film made up of publicly available clips drawn from internet sites like YouTube. It's a mashup of snow, Ski-Doos, hunting and family life, and it also offers a window on industrial development in Canada's North.
But there are also clips of Inuit appearing drunk: wrestling on the floor, crashing an ATV and vomiting. There's also one very sexually explicit scene.
To make the film, director Dominic Gagnon says he drew from around 500 hours of footage of the circumpolar region and stitched it together at his computer in Montreal. The soundtrack is made up of Inuit musicians – also taken from web clips – and sound design by the filmmaker himself.
The film has earned Gagnon showings at festivals as far off as Prizren in Kosovo and Leeds in Great Britain, and it even won an award at the prestigious Visions du Réel festival in Nyon, Switzerland.
Of the North screened twice in official competition at the RIDM festival last week and has since drawn fire from some Inuit.
'Not his place': Inuit filmmaker
Alethea Arnaquq-Baril is an Inuk and a documentary filmmaker.
She says seeing Gagnon's film left her shaking.
"Violent, wandering drunks that neglect their children and don't care for the lives of animals: that's the image I took away from the film," said Arnaquq-Baril from her home in Iqaluit.
"I think it's kind of a cheap move to totally play up a negative stereotype of a marginalized people for your own artistic gain."
She also questions how Gagnon could feel qualified to make a movie about a place he's never been.
"He's never been north, he's admitted that, and he's got no stake in our communities, in our reputation."
Tanya Tagaq, too, is offended by of the North's content. She said despite difficulties in northern communities, Inuit today are moving forward, and if Gagnon thinks he's helping by trying to ignite a social debate, he's not.
"It's just been within the last couple generations that we've had to deal with the fallout of residential schools," Tagaq said. "I went to residential school. Watching that film triggered a lot of really terrible things for me, and that's what I'm talking about. It's not his place."
"He's never been north, he's admitted that, and he's got no stake in our communities, in our reputation."
Critics missing the point: Gagnon
of the North's director, Dominic Gagnon, counters that as a filmmaker and ethnographer, he feels he has the right to use videos that people post of themselves online. He admits he's never been to the North but that his critics are missing the point of the film. He said it is not about Inuit but about how people film themselves.
"To me it's more a story about how Inuit people appropriate social media, how they represent themselves, what they feel like doing," Gagnon said, adding that for him, the people in the videos represent a kind of "cultural avant-garde."
"They are defiant. They are not following the path that some people would like them to follow, and I feel like I had the right to represent that as well. Not only the politically correct idea or image of the Inuit, but the jackasses and the drunks and the whatever."
He also disputes claims that of the North is uniformly negative.
"It's not an easy film. It's not a feel-good movie, but I believe there's a lot of light in that film too."
However, more than being troubled by the tone of the film, Tagaq is angry that her music was used as material for the film's soundtrack – without her permission, she said.
Tagaq said if Gagnon doesn't remove her voice tracks from the film, she'll launch legal action against him.
This isn't the first time Gagnon has made a movie this way.
The director considers himself a mashup artist and "copy-left" advocate. He said all the videos he's using were publicly viewable online, and he's simply replaying them for a broader audience.
He also said he doesn't seek to profit from his work.
"My films are not for sale," Gagnon said, "You can tell me I had no right to manipulate this material, but I didn't steal anything. Everything's public, transparent: That's why I cite all the videos I've used in the end [credits]. I'm not hiding anything."
Gagnon does acknowledge he received a grant from the Conseil des arts et des lettres du Québec for research that went into the making of the film.
Festival stands by screening
RIDM's artistic director, Charlotte Selb, said she stands behind the decision to show the film, saying it has provoked important debate.
"You can tell me I had no right to manipulate this material, but I didn't steal anything."
"It's a discussion about how, as settlers, we perceive our own colonial past and the present reality of the Inuit people," Selb said. "Very disturbing films can better achieve their goal than a film that will make the white spectator comfortable about what's going on in the north."
She also defended the festival's record of programming indigenous films, saying last year's Grand Prize winner for Best Canadian Feature, Sol, was co-directed by an Inuk, Susan Avingaq.
As far as copyright issues are concerned, Selb said RIDM relies on written assurances from their filmmakers that they have properly cleared the rights to their documentaries and that she was not aware of any such issues with Tagaq's music before Friday's screening.
However, in a telephone interview last Friday several hours before the screening, CBC News did inform RIDM programmer Bruno Dequen that Tagaq was upset her music was used without permission.
Dequen said at the time it was difficult for him to comment without all the facts, but that it would not change the festival's decision to screen the film as planned that evening.
Tagaq also tweeted that she wants a meeting with RIDM's jury and its director, Mara Gourd-Mercado.
On Wednesday, the festival tweeted back at Tagaq, saying it is in contact with Tagaq's management, Six Shooter Records, and would be happy to meet with Tagaq personally.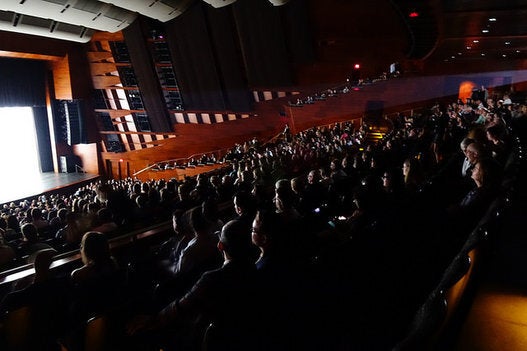 10 Films To See At The 2015 Calgary International Film Festival