A family of bobcats decided to claim a snowy Calgary backyard as their own for playtime, to the surprise of the home's owner.
The mom and her two kittens walked along Darcy Gillis' fence before hopping down to play with some ornaments.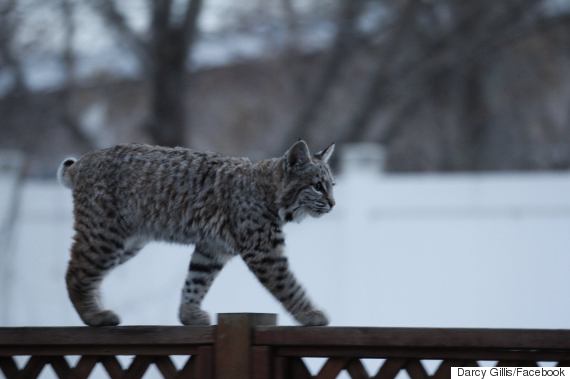 One of the kittens walks along the fence. (Photo: Darcy Gillis/Facebook)
Gillis said it was strange to see the kittens in his southwest neighbourhood of Kingsland as it's bordered by two major roads.
"They really seemed comfortable, like they were city cats," Gillis told Metro News.
A number of bobcats have been sighted in Calgary over the past few months. In September, a family of kittens snuck right up to a homeowner's door in Haysboro.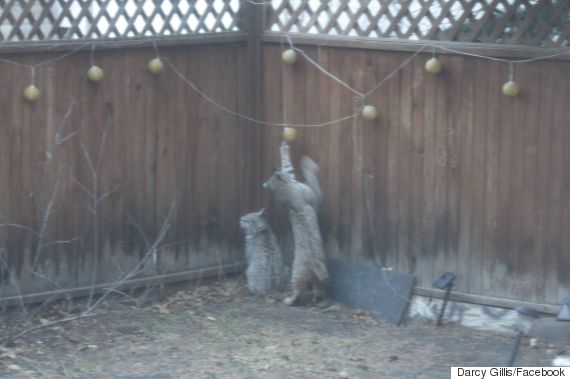 The cats play with ornaments along the backyard's fence. (Photo: Darcy Gillis/Facebook)
There have been no reports of Calgary bobcats "going after someone or being aggressive," Fish and Wildife spokesperson Brendan Cox told Global News.
However, the felines have been known to occasionally attack small pets or squirrels, according to the National Post.
Fish and Wildlife won't remove bobcats but if the cats are proving to be more bothersome than cute, they suggest making your backyard less attractive by removing birdfeeders or sealing off spaces where the cats could hide.
Like Us On Facebook

Follow Us On Twitter

Also on HuffPost:
Bobcat Breaks Into Nelson, B.C. Home