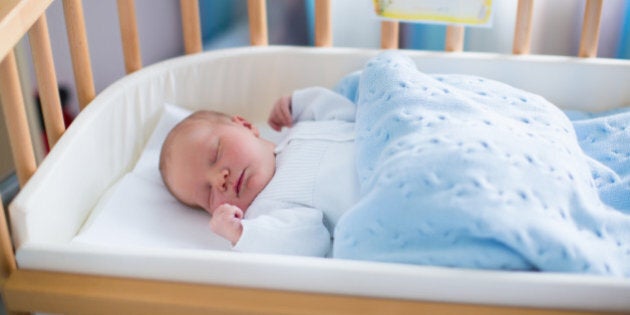 A new study has confirmed that crib bumpers are more dangerous than they seem.
On Tuesday, research published in "The Journal of Pediatrics" from Washington University School of Medicine found that the use of bumper pads in cribs led to 23 deaths from 2006 to 2012. This number is three times higher than the eight deaths reported in the previous seven-year span.
Dr. Bradley Thach, a professor emeritus of pediatrics and one of the study's authors, said: "Crib bumpers are killing kids. Bumpers are more dangerous than we originally thought. The infant deaths we studied could have been prevented if the cribs were empty."
According to the study, most infants died due to suffocation. "When a baby's nose and mouth is covered by a bumper, the infant can suffocate when his or her airway becomes blocked, or from breathing oxygen-depleted air," study author N.J. Scheers explained.
Researchers also reviewed data from U.S. Consumer Product Safety Commission (CPSC) and found that there were 48 infant deaths from 1985 to 2012 due to crib bumpers. Additionally, 146 babies nearly suffocated, choked or were strangled.
As a result, researchers are now calling for a nationwide ban on crib bumpers. "A ban on crib bumpers would reinforce the message that no soft bedding of any kind should be placed inside a baby's crib," Thach said. "There is one sure-fire way to prevent infant deaths from crib bumpers: Don't use them, ever."
Crib bumpers were originally introduced as a way to prevent babies from hitting their heads on crib bars or getting their limbs stuck between them. However, Health Canada has long warned that bumper pads, as well as any loose bedding or soft objects, can lead to suffocation. Additionally, the strings attached to crib bumpers are a strangulation hazard.
To keep your baby safe, Health Canada advises parents to completely empty their baby's crib, except for a mattress and fitted sheet.