Conservative MP Andrew Scheer is out of his Speaker's robes, demonstrating his trademark good humour and looking relaxed, wearing a light pinstriped grey suit, white shirt and a pink striped tie.
Next week, Scheer, who has been arbiter of the House of Commons for the past four years, will hand over the reins to a new Speaker.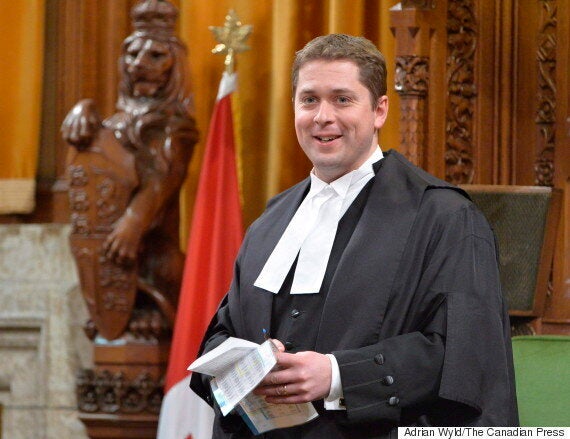 Andrew Scheer has been the Speaker for the past four years. (Photo: Adrian Wyld/The Canadian Press)
The father of five said he'll miss the job. Had the Conservatives returned to power, Scheer would likely have let his name stand for re-election. With a Liberal majority, however, the likelihood of his defeating a Grit candidate was uncertain. Scheer, 36, seems to have found some peace with the demotion.
"With the results of the election, it seemed like it was a good time to go back into caucus and work with my team, and there is a lot of rebuilding that needs to be done," Scheer told The Huffington Post Canada. "We have a great interim leader and we've got a great team — a good mix of veterans and new MPs — and it just seemed like a good time to refocus on that aspect of Parliament."
Scheer half-jokingly said he tried to convince the other parties last June to agree to the British tradition in which the Speaker runs unopposed by mainstream parties in his riding, under no party banner but identified as "The Speaker seeking re-election." The other parties here wouldn't go for it, Scheer said, smiling.
The job of Speaker of the House of Commons, which sits fifth in the order of ceremonial precedence, is seen as a valuable perk for an MP. The Speaker essentially fulfils three functions. The Speaker presides over question period, can expel misbehaving members, and can make rulings when MPs believe their rights have been infringed.
He or she is responsible for the administration of the Commons, the staff, the precinct's security, printing and postal services, and providing MPs funds and resources to do their job — an office that comes with an approximately $414 million budget.
The Speaker also plays a diplomatic role, representing the House of Commons, hosting foreign dignitaries, and travelling abroad as head of delegations to international conferences and legislatures representing Canada's Parliament and interests.
The position comes with a big salary boost — $80,100 on top of the basic MP salary of $167,400, for a combined salary of $247,500. There is:
A car and a driver
A historic farmhouse in Kingsmere, a 20-minute drive from Parliament Hill in the Gatineau hills
A finely appointed office (where an iconic portrait of Winston Churchill is displayed)
A dining room to host dinners and receptions
A small apartment in Parliament's Centre Block.
That flat is nothing to write home about, by the way. Scheer gave HuffPost a rare tour Tuesday of the approximately 400 sq.-ft., L-shaped unit.
"This is the famous apartment," Scheer said, opening the door. "[CTV journalist] Don Martin always calls it 'the luxurious apartment in Centre Block.' It's nice, but, I don't know, I've stayed at nicer Radissons," he said, laughing. "I don't know if it's luxurious, but it serves a purpose."
There is a small room with a double bed and an armoire, a living room with couches, a desk, a TV, a gas fireplace that works occasionally, and a small fridge. To the side, there's a dressing room and a dated bathroom with a tub-shower. There is no kitchen. It's far from glamorous — most MPs have nicer offices.
But, Scheer noted, it is handy.
"I didn't use it too often. I don't like to sleep where I work. It's something weird falling asleep and waking up the next morning and having to be right back at work. You need a little bit of detachment — especially in politics. You need to get away.
"But at times, when we had late-night sittings, or round-the-clock sittings, I would come back and use it."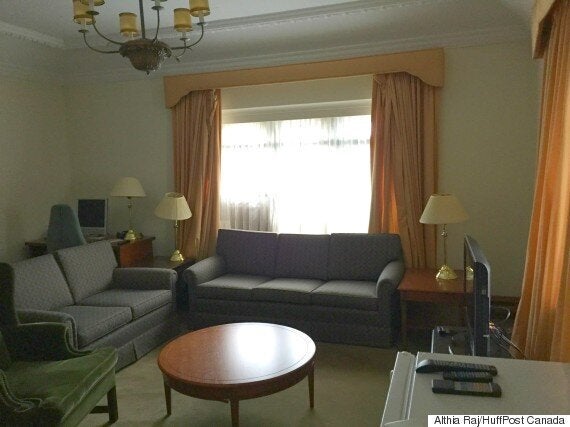 The living room of the Speaker's apartment on Centre Block. (Photo: Althia Raj/HuffPost Canada)
Scheer has sleep apnea, so he can't decide on a whim to spend the night — he needs to go back to the farm to get his "sleep pad" — but during the day and some occasional evenings, he used the apartment to freshen up, take a nap, call his wife and kids in private, or use it as a place to keep his children entertained and fed when they visited him on Parliament Hill.
Scheer, his wife Jill, and their four kids used the farmhouse as their principal residence. Their fifth child, Mary, was born on Nov. 12.
Several contestants for the Speaker's job, such as Liberals Mauril Bélanger and Yasmin Ratansi, told HuffPost they would not stay at the Speaker's official residence but would make use of the apartment or, in Bélanger's case, stay at his Ottawa home.
Scheer doesn't understand the reasoning.
"You'd go crazy. How could you do that long term, sleep in your office?"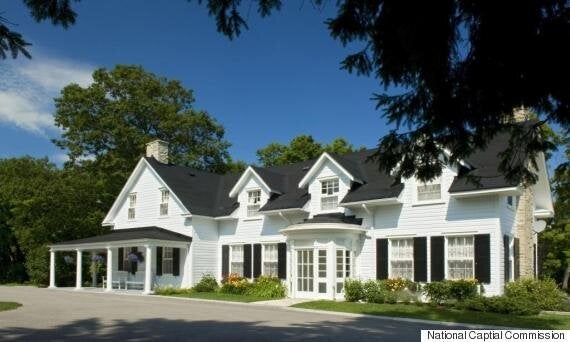 "The Farm" is the official residence of the Speaker of the House of Commons. (Photo: National Capital Commission)
"I would recommend to the next Speaker to make use of Kingsmere. It's meant for the Speaker. I used it, not only because I have a young family, but I would also invite members of Parliament for social gatherings, either by caucus or to mix up the parties. It's another opportunity for members of Parliament to get to know each other. We had diplomats up as well…. it was a wonderful place to invite some ambassadors or foreign delegations."
Scheer said he doesn't think abandoning Kingsmere would save money, because the National Capital Commission, which is responsible for official residences, would still have to maintain the property, renovate it and keep the heat on. "So they might as well use it, and they might as well, as I tried to, share it with parliamentarians."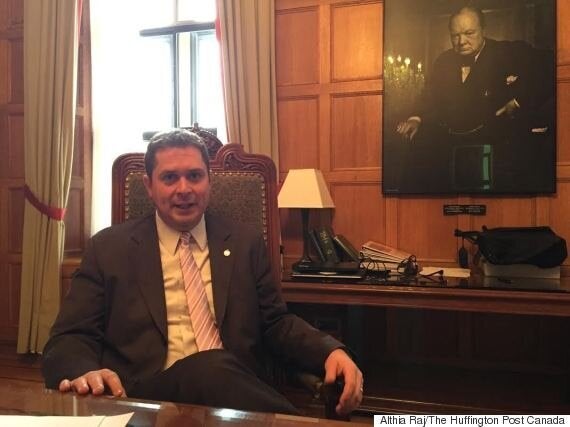 Andrew Scheer in the Speaker's office on Parliament Hill. (Photo: Althia Raj/HuffPost)
As he walks down the hall from his office to the apartment, Scheer notes the portraits of the former Speakers hanging on the wall. Just as paintings of former prime ministers are displayed on the southern hallway outside the Commons, images of past speakers hang on the northern side of the chamber.
Scheer hasn't sat down for his portrait yet. "It's something I'll probably turn my mind to after Christmas. It's something we'll have to figure out, I hadn't given it much thought until after the election."
The Conservative MP for Saskatchewan riding of Regina–Qu'Appelle was first elected in 2004. He served as former House Speaker Peter Milliken's deputy and assistant deputy for five years and was seen as the most likely Conservative to take over the reigns when the former Liberal MP retired in 2011.
After six rounds of voting, Scheer was elected at the beginning of the last Parliament, defeating NDP MP Denise Savoie.
This time, however, when MPs elect the new Speaker on Dec. 3, they won't have hours of voting — and intrigue — ahead of them but will select a new Speaker through a secret preferential ballot.
Advice for the new Speaker
Scheer has spoken to most of the candidates running for the job. He has briefed them on security matters that will land on their plate and provided some advice for a smooth transition.
He has told them not to take things too personally. People's emotions run high with a limited time for members to ask questions, and sometimes MPs over-react, he said.
"There are times when I would look up and see grown men and women just screaming at me because I let someone go three or four seconds over, or because I cut off someone's speech. And I would look at them and think, 'Wow. This person is losing their marbles over three seconds — and they were yelling "Time!!!"' And then you would see them in the hallway after and they are all fine and jovial and jokey."
He quickly learned that a lot of what happens in the chamber is theatrical — aimed at the television cameras or the media watching — and that rarely is the outrage or indignation genuine.
"There are times when I would look up and see grown men and women just screaming at me."
Scheer also suggested that the new Speaker not feel bound by the clock if MPs are actually engaging in a substantive manner.
"It's not there to have rigid clock management, it's there to allow debates to be held and ideas to be exchanged, and when that is happening, I think the Speaker's job should be … to grant a little leeway. Or be a little bit tighter, depending on what the mood of the chamber is, and when members react, let it wash off of you."
One of the hardest things Scheer found as Speaker was the isolation of not being part of a party caucus and the collegiality that went with it. "But the job required it," he said.
"The mental discipline of staying non-partisan, especially for someone who has never had chair experience will be the first thing that they will have to develop — to really separate yourself from party politics.
Fixed election date changed vibe
Scheer acknowledged that things didn't run always smoothly in the last Parliament, but he said the media often focused on the negative.
"We could have several weeks of good questions and good answers and substantive debates, … and then you could have one question where someone lost their temper or went beyond, and that gets the focus," he said. "There is definitely an ebb and a flow and, as we got closer to the last election, certainly tempers got shortened and emotions ran high, so it became a little bit more difficult in the last few weeks."
Scheer believes the fixed election date may have heightened tempers somewhat as the opposition tried to set a narrative before the election and the government tried to finish its agenda.
"I do think that this previous Parliament lacked some of the traditional behind-the-scenes co-operation that usually the parties would find ways to manage internal things and keep the fight on policy and politics. And I had to deal with some issues that previous Speakers didn't because of that breakdown, and so that made my job more difficult as well."
The parties couldn't agree on small things, let alone the big issues, Scheer noted, pointing to the scheduling of House matters and even the allocation of office space for different groups to have meetings on Parliament Hill.
His most memorable moment on the job, Scheer said, was the day after the Oct. 22, 2014, attack on Parliament Hill.
"It was one of the most profound in my parliamentary career, in and out of the chair, watching Parliament come together. All the parties and divisions melted away, and we were all colleagues and fellow Canadians and human beings.
"That whole morning made such an impression on me, watching prime minister [Stephen] Harper greet Thomas Mulcair and Justin Trudeau and the way they all kind came together. In that tragedy, we were all brought together as Canadians, and that had a lasting impact on me."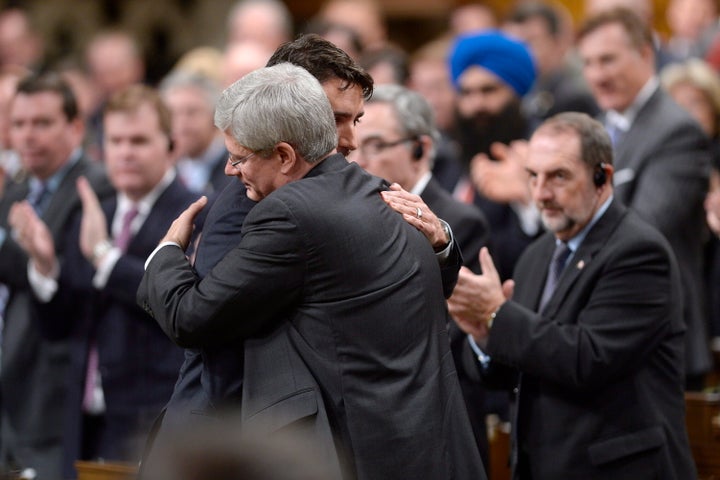 Stephen Harper hugs Justin Trudeau in the House of Commons a day after the attack on Parliament Hill. (Photo: Adrian Wyld/The Canadian Press)
Scheer said he'll miss the role. "I did enjoy the job … I'm going to have fond memories of it."
He said he's looking forward to a new challenge, but he doesn't seem quite ready to close the door on the Speaker's job completely.
"I could be the Grover Cleveland of speakers," he said, referring to the only U.S. president to have served two non-consecutive terms in office, in 1885 to 1889 and again in 1893 to 1897.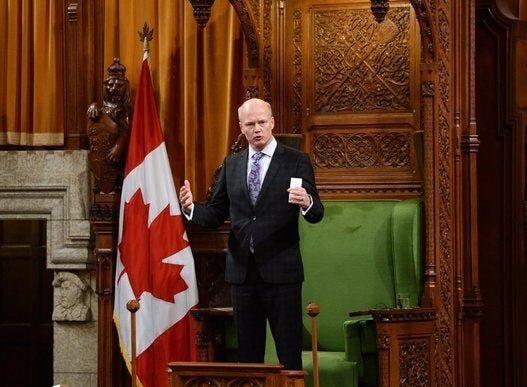 The House Speaker's Perks & Powers