Getting this close to a bald eagle is either an incredibly brave or a very stupid idea.
But while it was risky, these two brothers from Sudbury, Ont. had a very good reason for coming in close contact with the animal.
Neil and Michael Fletcher were out hunting when they came across a bald eagle stuck in a trap, reports CBC News.
The pair slowly stepped closer, realizing the bird was still alive.
"I knew we had to do something right away," Neil told the network.
His brother took off his jacket and draped it over the bird, which remained calm through the process. The two worked quickly to untangle its foot from the hunting trap, and even managed to capture it on video.
Michael uploaded a video of the rescue on Facebook earlier this week.
Me and Neil found this eagle in a trap

Posted by Michael Fletcher on Tuesday, November 24, 2015

The unexpected mission was a success, but the brothers weren't done yet.
They decided to snap a quick selfie with the freed bald eagle.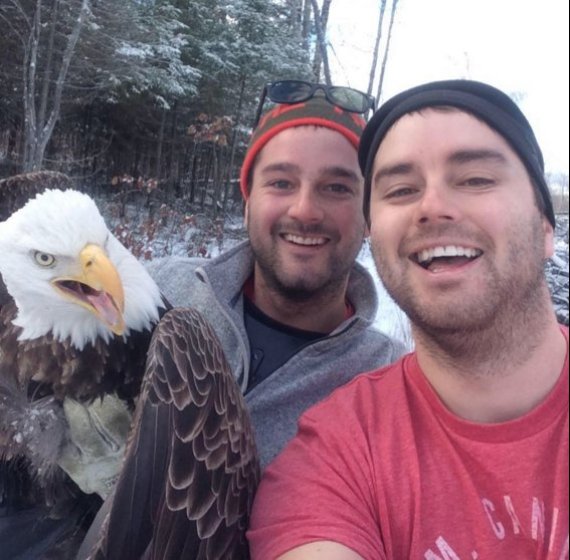 Michael and Neil Fletcher of Sudbury, Ont. take a selfie with a bald eagle they freed from a hunting trap. (Michael Fletcher/Facebook)
"Everybody thinks it's like the selfie of the year," Michael told Buzzfeed Canada.
The brothers, who say they're still "just really amazed" by the experience, then released the bird back into the woods.

Also on HuffPost: