WINNIPEG — Edmonton backup quarterback Jordan Lynch plunged over the goal line with just under three and a half minutes left in regulation as the Eskimos defeated the Ottawa Redblacks 26-20 in the 103rd Grey Cup game.
The six-point lead after the touchdown was enough for Edmonton in what had been an offensively challenging second half for both teams.
Edmonton won its 14th Grey Cup title, but its first since 2005.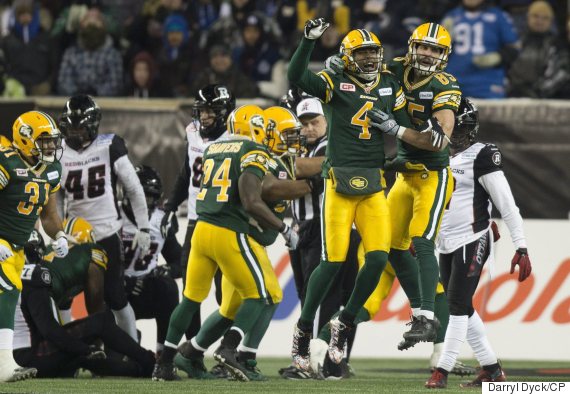 Edmonton Eskimos' Adarius Bowman (4) and Nate Coehoorn (85) celebrate a touchdown during the second half of the 103rd Grey Cup in Winnipeg on Sunday. (Photo: Darryl Dyck/CP)

The Redblacks advanced to the big game in just their second year in the league.
An Ottawa CFL team hadn't been to the CFL title game since 1981, when the Rough Riders lost 26-23 to the Eskimos.
Ottawa scored on its first two drives of the game but struggled to put up points after the first quarter.
Edmonton quarterback Mike Reilly was named Grey Cup MVP after the win.
Mike Reilly is #GreyCup MVP pic.twitter.com/s9PYnJpDCN

— Edmonton Eskimos (@EdmontonEsks) November 30, 2015
Also on HuffPost