Canada's new prime minister has made a lot of changes in his first month in office, but CBC News has learned Justin Trudeau has also brought a bit of history back to Parliament Hill.
A reporter's tweet was the first clue.
It revealed that former prime minister Stephen Harper's desk had been dismantled and moved to a warehouse.
Ordeal by furniture: Stephen Harper's desk is dismantled and shipped to a gov't warehouse #cdnpoli pic.twitter.com/Q9Scru4pWC

— Blacklock's Reporter (@mindingottawa) November 20, 2015
Sources told CBC News that Trudeau found it too big and asked for a replacement — and received one with no small measure of significance for his family.
The desk his father used as prime minister for more than 15 years was retrieved from storage for the younger Trudeau to use.
It arrived late last week and now sits in his third-floor office on the Hill.
Desk used by other PMs, too
The desk was made around 1880 and was used not only by Pierre Trudeau, but by former prime ministers Sir Wilfrid Laurier, Lester B. Pearson, Jean Chrétien and Paul Martin as well.
A famous picture shows Pierre Trudeau in front of the desk, thumbs in his corduroy pants' pockets, no jacket, and that defiant "Just watch me" look.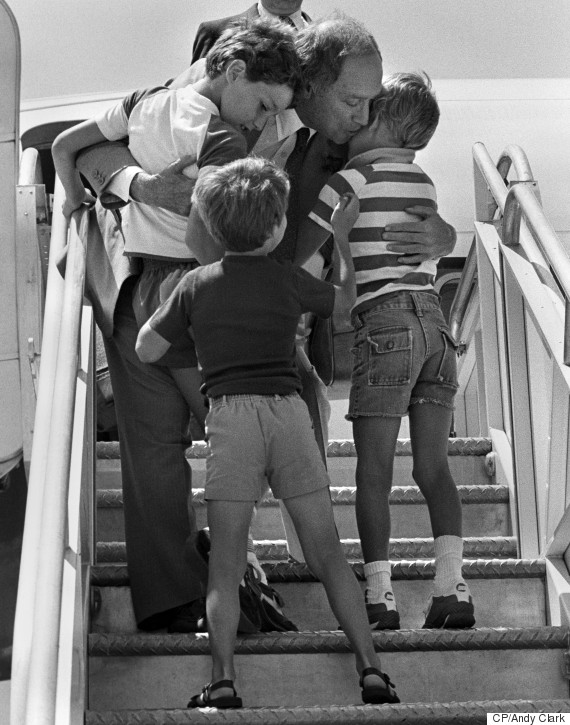 Prime Minister Pierre Trudeau is welcomed home from his European trip June 27, 1981, by his three sons 9-year-old Justin ( left), 5-year-old Michel (centre), and 7-year-old Alexandre (Sacha) getting a kiss from Dad. (Photo: Andy Clark/CP)
Among the mementos in Justin Trudeau's office is another famous picture, the one in which his father is carrying him under his arm, rather like a football, past a saluting Mountie.
There's also the vintage "Hang In There, Baby" cat poster that belonged to his father, which now hangs in an adjacent office.
Also on HuffPost
Trudeau's International Debut