PARIS-- Prime Minister Justin Trudeau paid tribute this morning to victims of this month's terrorist attacks in Paris with a visit to the Bataclan concert hall, the scene of the worst carnage on Nov. 13.
A Quebec delegation organized the memorial ceremony at the site where 90 of the 130 victims died when Islamic-inspired terrorists launched seven co-ordinated attacks around Paris.
Trudeau was accompanied by his wife Sophie Gregoire as well as Quebec Premier Philippe Couillard and Montreal Mayor Denis Coderre. French Prime Minister Manual Valls also joined them at the memorial where they honoured the victims in silent reflection.
The moving Quebec ballad 'Quand les hommes vivront d'amour,' written by Raymond Levesque, was performed at the ceremony by Veronic Dicaire, and youngsters from a Quebec school board laid flowers on the makeshift shrine in front of the cafe.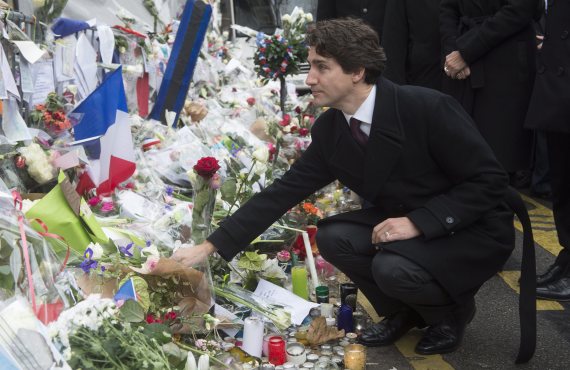 Prime Minister Justin Trudeau kneels near a makeshift shrine honouring victims of the Paris attacks. (Photo: AP)
Trudeau, speaking to reporters in the Elysee courtyard, called his visit to the Bataclan "extremely touching.''
"Canadians as a whole were extremely touched and affected deeply by the attacks, and it was an important opportunity to demonstrate that we stand firmly in sympathy and in resolve with the people of France-- indeed with everyone around the world in the fight again terror and the work to create peace and stability across the world,'' he said.
Premiers Kathleen Wynne of Ontario, Rachel Notley of Alberta, Christy Clark of B.C. and Saskatchewan's Brad Wall are also in Paris for Monday's formal start of the COP21 international climate negotiations, and will stop at the Bataclan to pay tribute later this afternoon.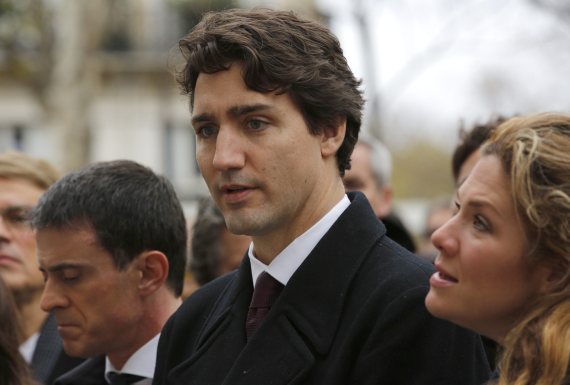 Prime Minister Justin Trudeau and wife Sophie Gregoire (right) pay respects to the victims of the Paris attacks outside the Bataclan concert hall. (Photo: AP)
Trudeau had lunch today at the Elysee Palace with French President Francois Hollande and meets this evening with India's Prime Minister Narendra Modi as negotiations on a post-2020 international climate framework get underway.
The prime minister has also scheduled meetings today with Ukraine President Petro Porochenko, former governor general Michaelle Jean who is currently heading La Francophonie, and a group of Canadian big city mayors.
Trudeau said Saturday the shadow of the terrible terrorist attacks has actually made world leaders eager to show up in solidarity at the Paris climate talks, and that he was optimistic of a positive outcome despite the absence of credible emissions-cutting plans to stop global warming.
Also on HuffPost
Paris attacks: Bataclan theatre scene