Canadians itching to see more co-operation from political leaders — or at the very least, more civility — may have reason to be optimistic.
At the COP21 climate change conference in Paris Monday, Prime Minister Justin Trudeau posted the kind of photo that would have seemed improbable not so long ago.
The image on Twitter captures the prime minister and two of his key cabinet ministers posing with the premiers of Canada's four most populous provinces, the national chief of the Assembly of First Nations, a key Conservative critic, the leader of the federal Green Party, and an NDP leader who, just last month, fiercely battled Trudeau on the campaign trail.
"To fight climate change, we're all in this together," Trudeau wrote. "Canada is back."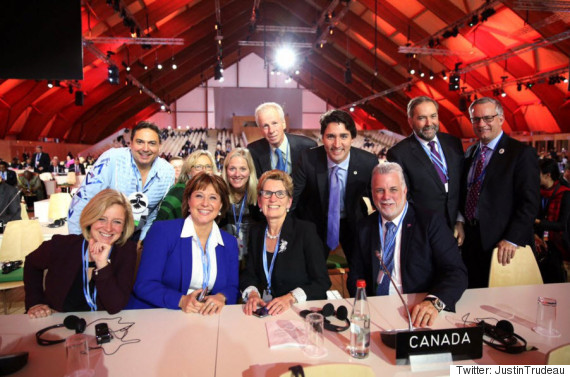 In the front, from left to right: Alberta Premier Rachel Notley, British Columbia Premier Christy Clark, Ontario Premier Kathleen Wynne and Quebec Premier Philippe Couillard. In the back: AFN National Chief Perry Bellegarde, Green Party Leader Elizabeth May, Environment Minister Catherine McKenna, Foreign Affairs Minister Stephane Dion, Prime Minister Justin Trudeau, NDP Leader Thomas Mulcair, Conservative environment critic Ed Fast. (Photo: Justin Trudeau/Twitter)
The past Conservative government of Stephen Harper famously excluded opposition parties from climate summits. And though he had good relations with B.C. Premier Christy Clark and Quebec's Philippe Couillard, Harper publicly clashed with both Ontario Premier Kathleen Wynne and Alberta Premier Rachel Notley.
While Trudeau's tweet may fit his pledge of a more inclusive federal government, his last line — quickly becoming something of a catchphrase for the new prime minister — might be rubbing at least one former Tory cabinet minister the wrong way.
New catchphrase
A day after winning a majority government in October, Trudeau told a news conference that he had a simple message for those who feared Canada lost its voice in the world over the past decade.
"We're back," he said, to thunderous applause from Liberal supporters.
"Canada is back, my good friends. We're here to help to build an agreement that will do our children and our grandchildren proud."
Trudeau said much the same line at the Commonwealth summit in Malta Friday, where he announced Canada will contribute $2.65 billion over five years to a climate fund for developing countries.
He used the line again Monday to close his eight-minute address to the leaders' plenary in Paris, where he called for action to combat climate change.
"Canada is back, my good friends," he said. "We're here to help to build an agreement that will do our children and our grandchildren proud."
'Back? Canada never left'
Erin O'Toole, who served as veterans affairs minister under Harper, wrote a blog for The Huffington Post Canada Friday calling out the Liberal Party's apparent "hubris."
"Back? Canada never left," O'Toole wrote.
O'Toole pointed out that, among other things, the new Liberal government was headed to Paris with the same emissions target as the Tories when they were in power.
"The Liberals won the election, so they are entitled to some chest thumping, but they should try and balance the complex challenges of governing Canada for at least a few months before hanging their equivalent of a Mission Accomplished banner," O'Toole wrote, in perhaps a preview of what's to come when Parliament resumes Thursday.
Mulcair: Words aren't enough
Mulcair, who has vowed to lead the "progressive" opposition in Parliament and push Liberals to keep their promises on matters like combatting climate change, shared a similar photo online from the Paris meeting.
While saying he was proud to be part of a "diverse" delegation at the conference, Mulcair also hinted at what he's expecting going forward.
"It is now time to turn words into concrete action," he wrote.
Proud to be part of this diverse Canadian #COP21 delegation. It is now time to turn words into concrete action. —TM pic.twitter.com/4fauNuuqLK

— Tom Mulcair (@ThomasMulcair) November 30, 2015
With files from The Canadian Press
Also on HuffPost