An Indiana mall Santa is pulling all our heart strings with a photo he took with a sleeping baby.
On Sunday, a Reddit user posted this sweet image to the site, saying: "While waiting in line to see Santa, this baby fell asleep. When it came time for the picture, Santa told the parents not to wake him."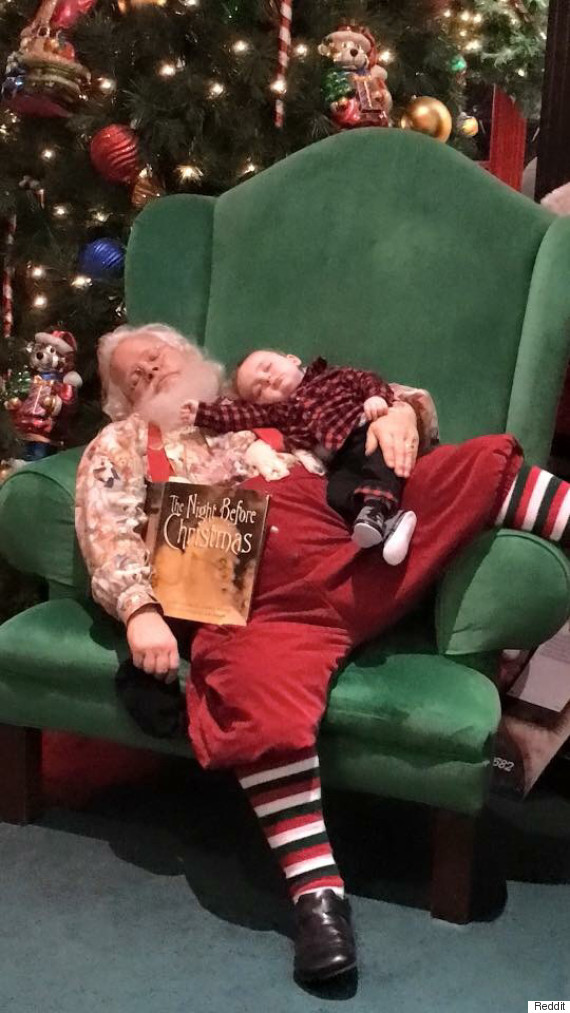 In the image, old Saint Nick is pictured with one leg slung over his arm chair, cradling both a baby boy and a copy of "The Night Before Christmas" in his arms. The photo was staged to look as if the two had fallen asleep after a late night read.
In just one day, the adorable photo garnered over 1,000 comments as the internet applauded the mall Santa for his cleverness. "Can we take a moment to appreciate that this is probably the best mall Santa ever?" one user wrote.
Another said, "Santa Level: Expert."
Turns out, Reddit users were right about Kris Kringle's experience level. The Santa, who works at Eastland Shopping Mall in Evansville, Indiana, has been working the same job for the past 33 years!
The Huffington Post tracked down the father of the baby, Donnie Walters, who explained that he and his wife were about to leave the photo line when they heard that "this Santa is notorious for taking pictures of sleeping babies."
In the end, the couple decided to stay in line and received the sweetest photo ever of their six-month-old baby Zeke and Santa.
After the photo shoot, Walters shared the sweet snap and a few others on Facebook. Since being posted on Thursday, the photo has been shared by over 195,000 users and made its way on to Reddit and Imgur, where it's been viewed over 3.6 million times.
"It been just amazing, just the response we've gotten to it," Walters said. "I'm getting messages from all over the place."
Amazed by the positive response to his son's photo, the stay-at-home dad added, "Of the 22 million views and the numerous amounts of comments, there hasn't been anything negative said. Everybody is just so sweet and so kind and saying how it's their favorite picture."
This isn't the first time a mall Santa has gotten creative with a sleeping baby. Last year, Baltimore Sun newspaper The Aegis shared a photo of a baby girl named Scarlett sleeping atop of Santa's belly and in 2012, a mall Santa in Idaho took a sleepy photo with another wee one who fell asleep while waiting in line.
Interestingly, this isn't the first time the Eastland Shopping Mall Santa has made headlines either! Last year, he also made news when he helped Clint Underhill, a soldier in Afghanistan, propose to his girlfriend Kimberly Roberts on his behalf. Naturally, she said yes.
Clearly, this is one of the best mall Santas ever!
Also on HuffPost
Santa Photos That Did NOT Go As Planned