A client who steps through the side door into Gino Coronado's basement barber shop in Surrey, B.C. will immediately feel like he should have brought a six-pack.
A grandiose pool table sits in the centre, taking up most of the den. A TV has the L.A. Clippers game on full blast. (How apropos.) The far corner is home to the bar. On the counter sits various empty liquor bottles, red plastic Solo cups, and a fairly nice hookah. This mancave has seen its share of parties.
And in the corner, a young man sits in a barber chair getting his hair cut by Coronado. With no white smock in sight, he doesn't look like your classic barber. He just looks like a cool guy with a razor in his hand.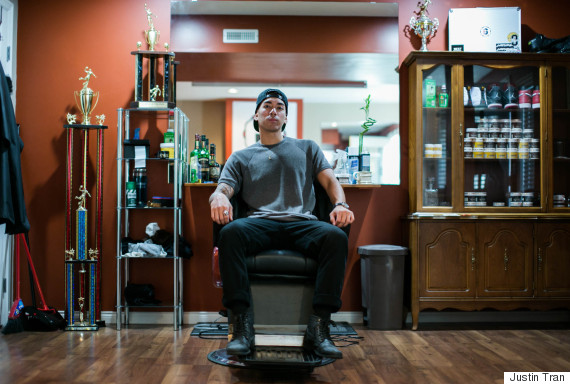 Coronado's razor buzzes in front of a vanity surrounded by basketball trophies. The counter is covered with combs, scissors and hair wax.
It's fair to say this basement oozes Coronado's personality.
"Barbers don't just cut your hair. We can be your best friend, sometimes your psychiatrist, talk to you about your favourite sport, or just shoot the shit with you," says Coronado.
Through word of mouth, the self-trained 25 year old has created quite the enterprise, building a client base that keeps him cutting from 10 in the morning until the wee hours of the night.
'He was my barber first and then we became homies'
It all began on a whim. When he was 16, Coronado gave his first haircut to a friend in his parent's bathroom. That one friend who needed a trim soon became two. Then four. Today Coronado says he has over 200 clients.
"I think the fact that I was good at it caught the attention of others. They were all referrals. I would say 80 to 90 per cent of my clients today are referred through someone's brother, or cousin, or best friend."
"... whenever I try these traditional techniques, it grounds me. It makes me love it as an art and a craft itself."
It was only earlier this year that Coronado started seeing clients who he considered complete strangers, but his licensed shop isn't an exclusive club where you need to know someone who knows someone.
"My clients are my friends. And if they're not already they become my friend eventually."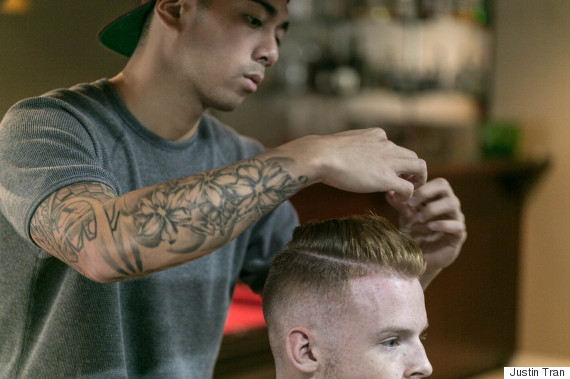 Matt Kownacki and his friend, Ryan Clancy, are examples of this client-to-comrade evolution.
"He was my barber first and then we became homies," Kownacki explained. "One of my buddies gave me a card and Ryan and I went three summers ago. Then they were talking about basketball and now Ryan plays for his basketball team. We've all been good friends since."
More than charisma
But is it that easy? Can you just be likable and then suddenly have a successful barber business?
Kownacki says his barber has more than charisma. He's picky when it comes to his hair and says that's why he chooses Coronado's basement-boutique over a trendy Yaletown salon.
"My hair was shit before I met Gino," says Kownacki. "Now, I get it cut every two weeks because I know what the difference looks like. He is always open to any suggestions and does your hair exactly how you want. Whereas most barbers say 'Oh he want's a fade but I'll throw my own spin on it' and it ends up looking completely different."
He also likes the price: Gino's cuts go for around $25.
"Gino is self-taught and stuff too, which is really cool," adds Clancy. "It makes you nervous at first but then you hear him start to talk about hair and you realize he knows his shit."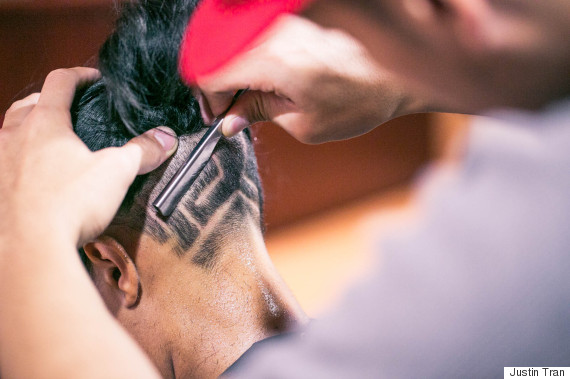 Coronado's career goals didn't always involve giving his client the perfect fade. He is also an accomplished basketball player and competitive dancer.
His dance crew represented Canada at the world hip hop dance championships multiple times, even placing second in 2013. Despite these talents, he still chose the path to barbering.
"It was the number one thing I was passionate about that made me money," he admits.
Coronado can give a mean cut, but he isn't a one-trick pony. He has mastered other traditional barbering practices on his own — which is key to legitimately calling yourself a barber.
"That's one of the things that distinguishes barbers from hairdressers – is the straight razor shave. People call themselves barbers and you ask if you can get a shave and they say 'Oh sorry, I don't do that' then you shouldn't call yourself a barber," said Shelley Salehi, co-owner of Farzad's Barber Shop in Vancouver's Yaletown.
Salehi has run the business with her husband for more than a decade and says the recent resurgence in barbering is "pretty incredible."
"It's really nice to see some new young people expressing interest and getting into the trade so that it does keep it from dying out," she told The Huffington Post B.C. in an interview.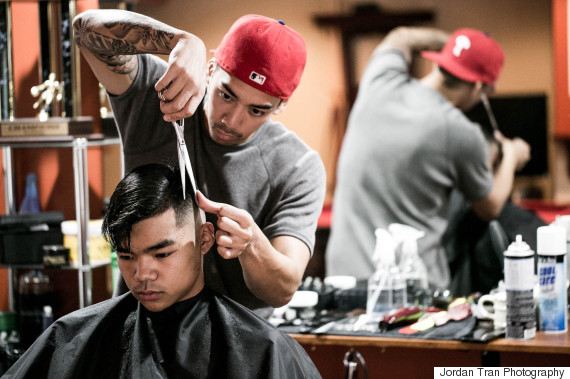 "A craft like this has a huge history. It has roots that are generations deep," Coronado states. "Something like a hot towel shave that has been around for more than 100 years, whenever I try these traditional techniques, it grounds me. It makes me love it as an art and a craft itself."
That love has led Coronado to create The Vancouver Barbering Collective, with his friend and fellow barber Marvin Soriano. The group wants to advance the barber culture in the Lower Mainland.
Men are just as picky about their appearance as women these days, Coronado points out. "Vancouver's hair game is constantly growing and improving. It doesn't cut it to get a cheap haircut anymore. People want quality because people are beginning to know what quality is."
This August, the group hosted a "barber battle" in Gastown called the Fade Phenom to showcase the skills of local barbers. Talent came from across the Lower Mainland and Vancouver Island in an exchange of education and inspiration for all things barber and hair-related.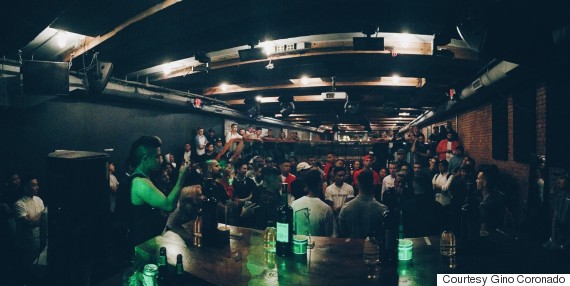 Barbers from across southern B.C. gather for Fade Phenom. (Photo courtesy Gino Coronado)
"It allowed us to connect our cities through something as simple as cutting hair. A lot of the barbers and cosmetologists have met at various hair events and schools. There is also support over social media, but that's it. The Vancouver Barber Collective can expand that."
Despite that eye for growth, the Surrey native is content to stay close to home.
"I want to open up a shop in Surrey. Everything that I've done up to this point I've always firmly believed that it's because of my clients. So the fact that the majority of them are from Surrey — to take that away wouldn't feel right."
A growing future for the barber is an exciting notion for Coronado, and it seems to be for reasons deeper than his own bank account.
"Everybody who sits in my chair is unique, and the fact that I get to relate to all these people on a regular basis makes me value what I do. They leave happy. What more can you ask of yourself than to help others be happy? When I think about it, this 'work' isn't work for me."
Like Us On Facebook

Follow Us On Twitter

Follow Us On Instagram