Kylie Jenner is everywhere lately.
Between dispelling rumours that she and boyfriend Tyga broke up and launching her highly-anticipated Lip Kit (which sold out in 30 seconds), there's no doubt the 18-year-old model is keeping herself busy, and in the spotlight.
Now, the reality TV star and youngest of the Kardashian/Jenner clan covers the December/January issue of Interview magazine, marking what may just be her most provocative shoot to date.
As People says, the Steven Klein-photographed images show Jenner looking like a "dominatrix Barbie doll meets Fembot meets Stepford wife," which just goes to show that Kylie is probably not like other girls her age.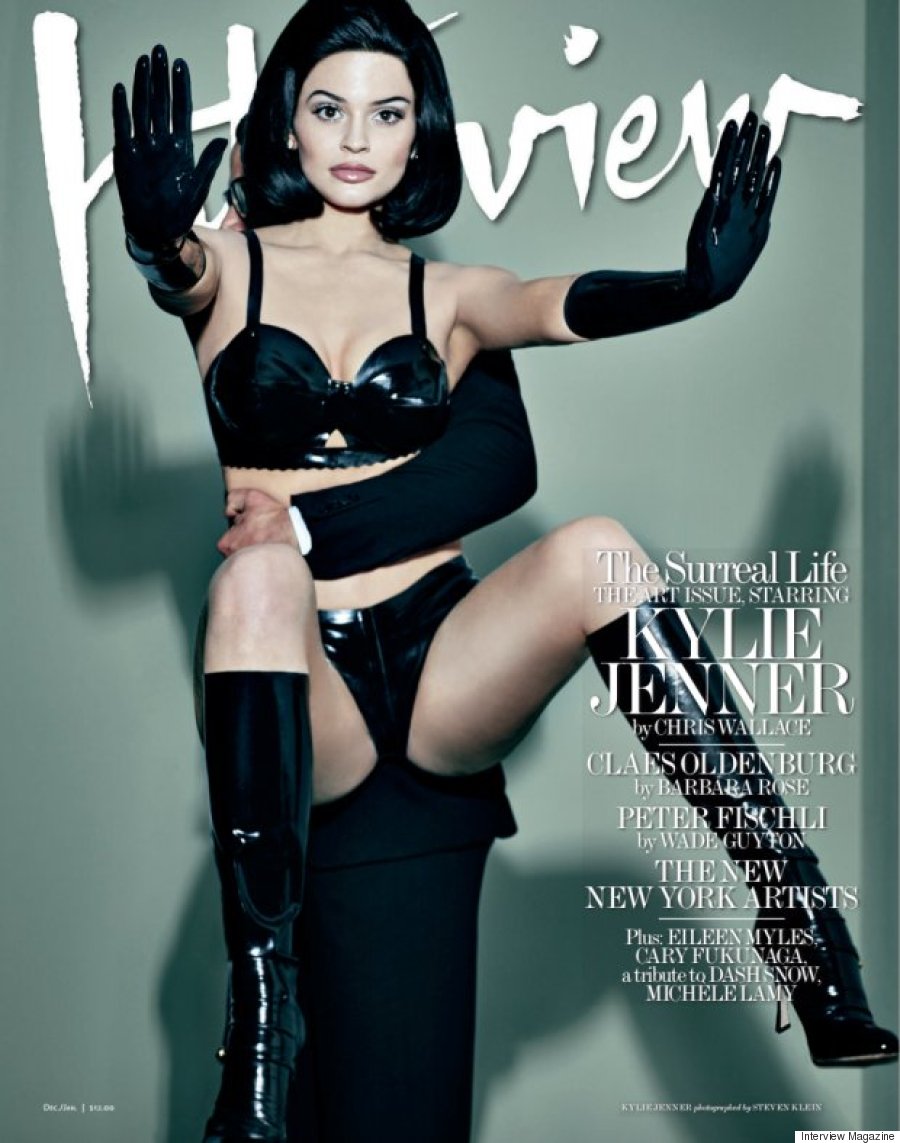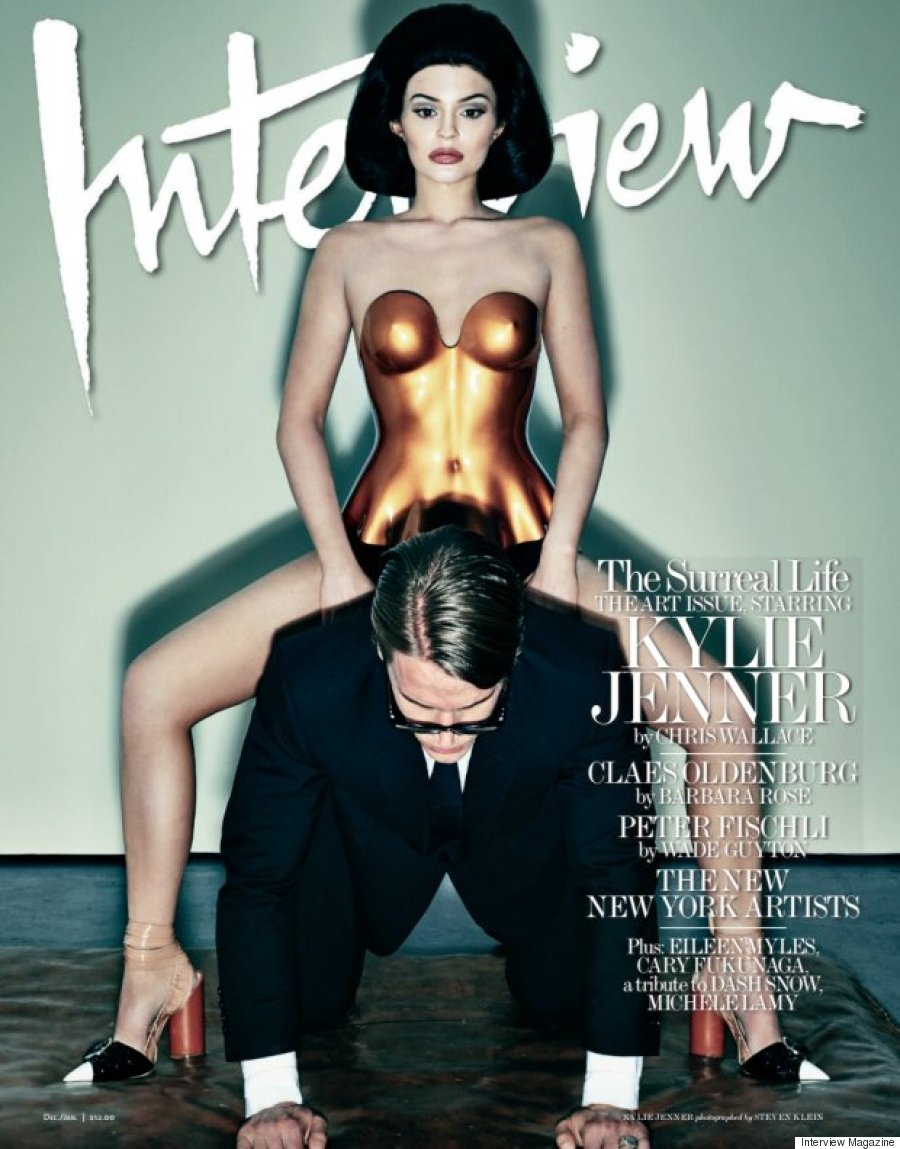 But aside from the fact that Kylie has been transformed into a "retro sex doll" for the shoot, there's one issue with the editorial that is raising plenty of eyebrows (and no, it's not the assless chaps she wears inside the magazine).
One of the covers features Jenner posing in a gold wheelchair, which is very reminiscent of Lady Gaga's chair in her "Paparazzi" music video. (Note: Gaga used the wheelchair after recovering from hip surgery.)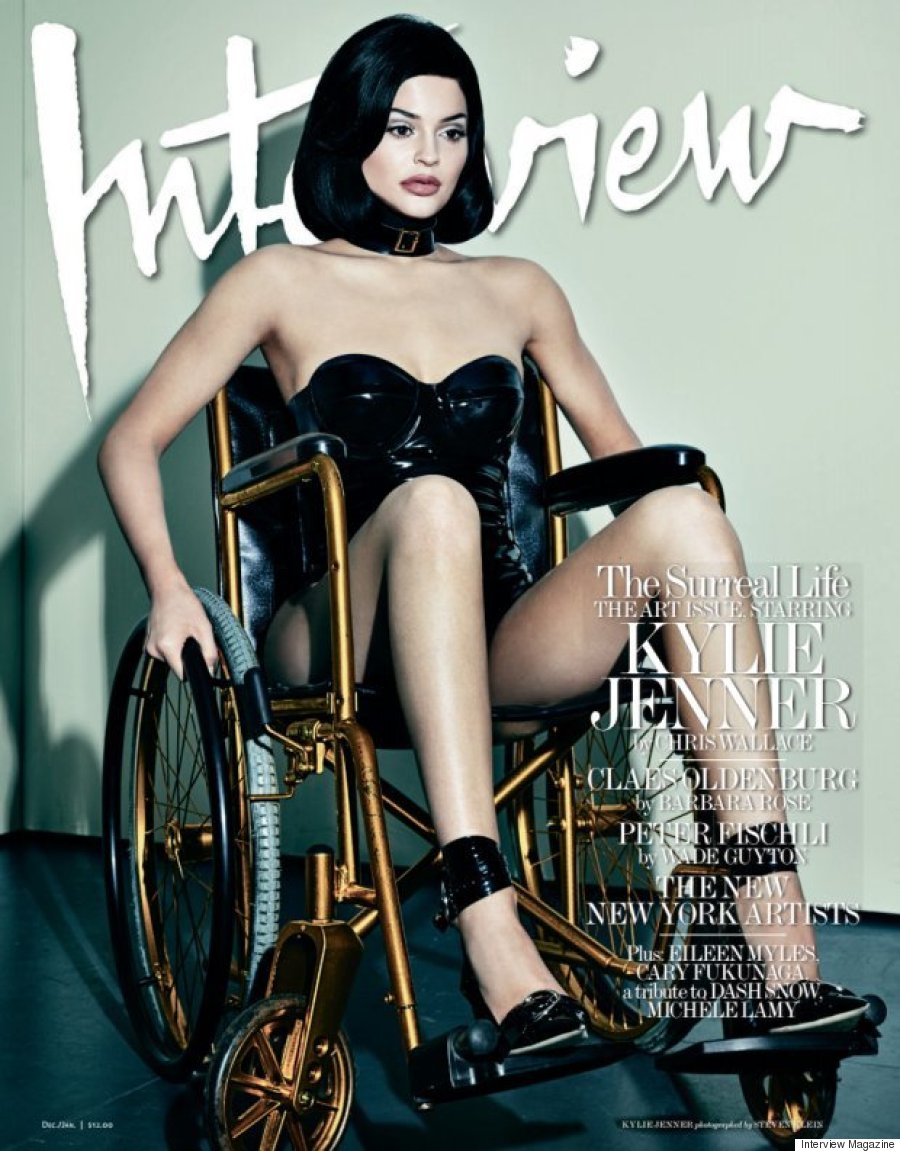 Sure, there could be several "meanings" behind the decision to use a wheelchair as an accessory (she's crippled by fame! She's "handicapped" by what other people think of her!), but choosing to glamourize something that is used by people with disabilities is an issue that shouldn't be ignored.
One staffer at Nylon magazine named Gabe put it best: "Her being normally abled in a chair is probably hurtful to some people who HAVE to use them, for whom it's not an artistic/fashion choice. That's not my big concern though. What irks me is how incredibly cynical the image is. They KNEW people would react negatively, which would be fine if there was an interesting point or statement being made here. There isn't though. Not really."
And the Twitterverse didn't show much support for the image, either.
So disabled models can't get work or advance in the fashion industry but Kylie jenner can use a wheelchair and be classed as edgy 👌

— Beth (@Bendy_Mermaid) December 1, 2015
I like how @KylieJenner can pose in a wheelchair for a magazine but whenever I use one I get shouted at with abliest slurs & get called ugly

— candycane ho (@CalyCupcake) December 1, 2015
@KylieJenner wow being in a wheelchair is so fun and fashionable! #Ableism is the ultimate fashion statement! pic.twitter.com/lOScQnODhy

— Ophelia Brown (@bandaidknees) December 1, 2015
While using wheelchairs or even crutches as fashion props isn't new (a Vogue shoot in 1995 featured model Nadja Auermann with crutches, while i-D's Winter 2010 issue showed Abby Lee Kershaw similarly equipped), at a time when so many people are calling for more diversity and inclusion in the fashion industry, abilities included, it seems as though this was an insensitive choice passed off as "art." To Kylie, this is probably just another "dope" shot, but to wheelchair users, it's hurtful and offensive.
What do you think of the editorial? Sound off in the comments below and head to Interview to check out the full interview and spread.
UPDATE: Interview magazine has responded to the controversy in a statement to ET:
"At Interview, we are proud of our tradition of working with great artists and empowering them to realize their distinct and often bold visions. The Kylie Jenner cover by Steven Klein, which references the British artist Allen Jones, is a part of this tradition, placing Kylie in a variety of positions of power and control and exploring her image as an object of vast media scrutiny. Throughout the Art Issue, we celebrate a variety of women who are both the creators and subjects of their artistic work, and the Kylie feature aims to unpack Kylie's status as both engineer of her image and object of attention. Our intention was to create a powerful set of pictures that get people thinking about image and creative expression, including the set with the wheelchair. But our intention was certainly not to offend anyone."
Follow Huffington Post Canada Style on Pinterest, Facebook and Twitter!
Also on HuffPost