Stacey Haley/Facebook
Stacey Haley never imagined one small Facebook request would get international attention -- all to make her 12-year-old son feel loved and happy.
The Bowmanville, Ont., mother has three sons. Two of them, her twins, have autism. And one of the twins, Will, has been obsessing over one colour of marker for a year now -- Crayola's primrose to be exact.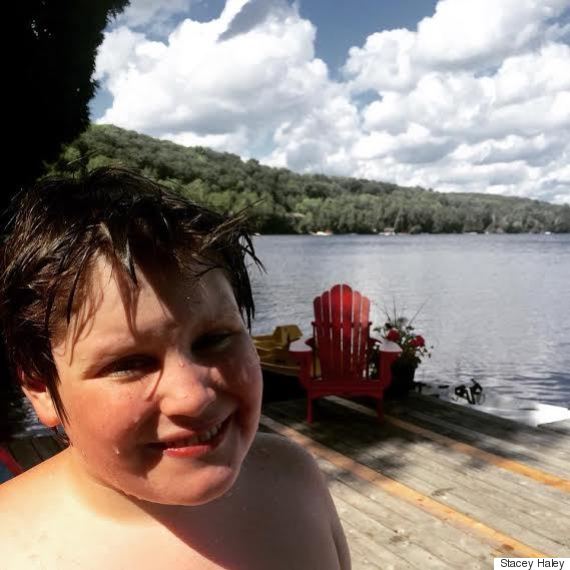 If he doesn't have a working primrose Crayola marker, his world falls apart. "No primrose means he won't get on the school bus in the mornings until he finds one that works," his mom explains. "No primrose means we can't drive by a Walmart or Staples without him wanting to jump out of the car to buy a pack. No primrose means hell in my household."
To keep the peace, Haley has spent hundreds of dollars on packs and packs of Crayola markers, just for that one colour. As she told CTV: "(He) isn't like a typical child where you can kind of just let it go and forget about it. He goes to sleep thinking about it and he wakes up thinking about it."
Reaching a breaking point, she had an idea and recently sent out a "cry for help for this frazzled, stressed-out (and broke) autism mama" on Facebook.
Haley asked people to send Will their extra primrose markers. She even offered to trade for two markers of any other colour from the mountain of unused markers she has.
Her call for help was answered. At least 25 markers have been dropped off at her doorstep. She told Huffington Post Canada that a local store has a bundle donated by customers and her church has been collecting them. "From the messages I have received, I should think there might be a few hundred on their way. I have received messages from Texas, California, New Zealand, London, England, and British Columbia so far."
As well, Crayola Canada has promised to send Will even more. The response has been so overwhelming that Haley has asked people to stop sending the markers. "What started as a little ask for my son has turned into a movement of supportive communities who have gone out of their way to make a difference in the life of our family."
Instead, she asks people to help another mom in need: "If you know of another frazzled autism or special needs Mama in your community... Reach out and see if they might be on the hunt for an elusive obsession. After this post, I KNOW I'm not the only one!"
Primrose markers aren't Will's first obsession. "Since Will was two or three, he has always been obsessed with the original Wiggles," remembers Haley. "He carried around the Crayola crayons in the Wiggles colours -- blue, red, yellow and purple -- whenever he didn't have the Wiggles stuffed animals in hand."
There was also a time he only wanted orange smelly markers and then blue markers that matched Nick Jr. characters. Haley knows there will be something new eventually, but for now, Will has more than enough primrose markers to keep him happy. Out of all of this, Haley may have received the best gift.
"Hands down, the greatest gift from all of this has been the reminder at how generous people are," Haley told the Huffington Post Canada. "With their time, with their kindness, with their money. It amazes me."
And while Will might not understand why all these markers are arriving at his door, Haley hopes he feels loved and understands how many people are cheering him on.
"At the very least, I hope that he can have some peace in his life so that he doesn't fall asleep thinking about primrose, because he has the security of knowing there's one waiting for him in the morning. Sounds silly, but it's true."