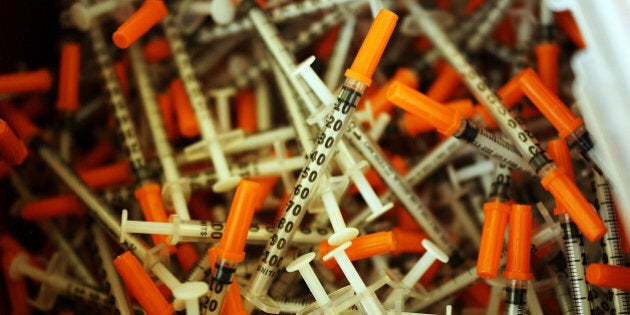 Youth as young as 12, some in government care, were "effectively living" at a northern B.C. drug house where 10,000 dirty needles were found last month, CBC News has learned.
RCMP Corp. Craig Douglass called the rental duplex unit on Spruce Street near downtown Prince George, B.C., a "crack house" and "flophouse." He said addicts bought drugs there and frequently stayed overnight while using crack cocaine, heroin, and crystal meth.
RCMP raided the home in response to a report of a woman being threatened with a firearm on Nov. 19. They arrested 15 people and found a vast quantity of used needles inside.
"A staff sergeant estimated 10,000 [needles] in this residence," said Douglass. "They were in every cranny and crevice, in the couch, in bags of garbage, in any spot lying on the floor."
Youth had nowhere else to go: Turpel-Lafond
B.C.'s Representative for Children and Youth, Mary Ellen Turpel-Lafond, said about ten young people, aged 12 to 15 years old, were connected to the house.
"They were effectively living in what I can only describe as being a bit of a drug house," she said.
Turpel-Lafond said she has been lobbying MCFD for several months to find them a safe place to live, but there are no beds or facilities in Prince George where they can get help.
"These are young people who are supposed to be in [ministry] care, living in a safe, appropriate home," said Turpel-Lafond.
"These are some of our most vulnerable children, who are likely to come to serious harm. These are kids who've experienced abuse, who need a home and who need safety."
Without a safe place to go, the youth have been surviving on the street, couch surfing, returning to abusive homes, or sleeping at a drug house, she said.
Turpel-Lafond said the youth may have been injecting hard drugs.
"They're very easy prey for sexual abuse," she said. "They're in peril. This is an issue I've brought to the attention of the ministry repeatedly."
Turpel-Lafond is also critical of the community's response.
"There must be people [who were] driving by that place every day and knew what was going on," she said.
The ministry declined to comment on these specific allegations, citing privacy issues. It did say that the ministry has strict protocols in place to respond to allegations once youth are in its care.
Douglass said it wasn't the first time officers had been called to the house and found young people there. A previous raid in August resulted in the arrest of a 14-year-old girl and a 15-year-old boy.
"It's not all that uncommon," said Douglass. "We do find kids of all ages in these [type of] residences at times. Sometimes it's toddlers crawling on the floor, sometimes it's teenagers."
Douglass said RCMP contacted the teenagers' guardians and alerted the Ministry of Children and Family Development.