OTTAWA — Canada's ambassador to the U.S. says this country needs to find a way to combat the influence of big money in American politics, which is getting in the way of the interests of both countries. Gary Doer says Canadian officials have to come up with new strategies to counter the power, scope and amounts of money spent in the U.S. on lobbying and presidential campaigns after years of giving the issue little attention. He cites the millions spent over years to block a new crossing between Detroit and Windsor, Ont., that he says is the most important piece of trade infrastructure between the two countries.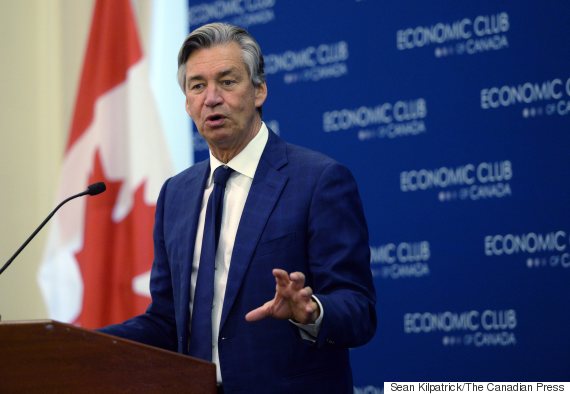 Canada's Ambassador to the U.S. Gary Doer speaks to the Economic Club of Canada in Ottawa. (Photo: Sean Kilpatrick/CP)
Doer also says Republican presidential candidate Donald Trump should be taken seriously because his support hovers around 30 per cent and his message is resonating with the party's base. Doer made the comments during a luncheon speech in Ottawa. Doer, whose time in Washington is set to end next year, says the Liberals will have to choose the best person for the job knowing the Republicans control Congress and the Democrats control the White House. Of course, he admits, all that could change with the U.S. election in 2016.
ALSO ON HUFFPOST:
Trump's Face On Movie Characters