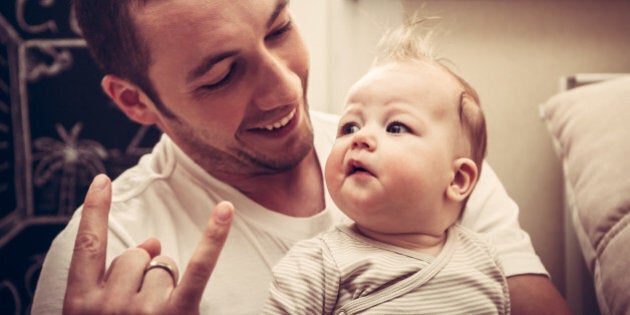 So your friends haven't been joining you at indie rock shows lately because they have a baby. And now it's the holidays and you want to buy them a present. But you also want to do something to give back.
Well, do we have the gift idea for you!
Long-running Canadian indie rock label Dine Alone has teamed up with Casey Cole of Sparrow Sleeps to transform songs from their bands like City and Colour, Alexisonfire, Arkells and Jimmy Eat World into lullabies.
You know the "Rockabye Baby" series? It's like that but instead of covering Kanye or The Pixies, they're lulling to bed the babies of Canadian indie rock nerds.
"My earliest memories involve listening to music with my parents in our kitchen and in the car," Arkells lead singer Max Kerman told The Huffington Post Canada. "The soundtrack that music brings has always brought comfort to my life. These re-interpretations of rock'n'roll tunes as lullabies was such a rad idea we immediately wanted to be involved as soon as we were asked."
"As local boys," Kerman added, "we have all been touched in one way or another by the good work performed at SickKids hospital in Toronto, so we are incredibly happy to support this record."
That's the best part. The money goes to help SickKids Hospital, and for a very personal reason.
"When my first son, Cole was born it was the most amazing day of my family's life. A few short hours later, his health took a turn and we found ourselves thrown into a four month, life-changing adventure at Mount Sinai Hospital and SickKids," recalls Dine Alone founder Joel Carriere.
"We spent countless days and nights feeling helpless by Cole's bedside and lullabies seemed to be the only thing that kept us sane and got us through a difficult and exhausting time with our new son. I wanted to create a Dine Alone lullaby record in the hope that it may help others like it did for my family. SickKids was also such a huge support during this time so we wanted to give back to them in some meaningful way."
Here's the full tracklist for "Dine Alone Lullabies".
01. The Girl (City and Colour)
02. Operator (Vanessa Carlton)
03. Bye Bye Love (Jimmy Eat World)
04. Accidents (Alexisonfire)
05. Oh, The Boss Is Coming! (Arkells)
06. Bambi (Tokyo Police Club)
07. Young Leaves (Attack In Black)
08. I Don't Know (The Sheepdogs)
09. Stairway (Yukon Blonde)
10. Turn It Around (Lucius)
11. Class Historian (BRONCHO)
12. Robotic (Hannah Georgas)
13. Back To You (Twin Forks)
14. Sweet Mountain River (Monster Truck)
15. Don't Ever Tell Locke What He Can't Do (Moneen)
16. Dine Alone (Quicksand)