Former NDP environment critic and Halifax MP Megan Leslie is returning to Ottawa — but not as an elected official this time.
Leslie says she has accepted a position as senior consultant on ocean governance with World Wildlife Fund Canada. In that role she'll cross party lines to further the organization's five-year plan with federal and provincial governments.
The job starts in a couple of weeks, she says.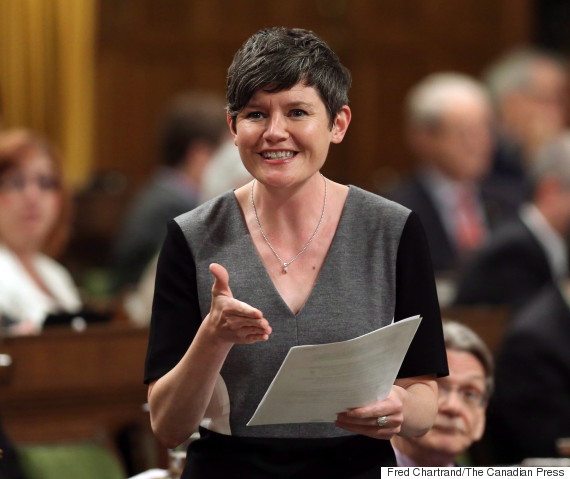 Megan Leslie speaks in the House of Commons during question period. (Photo: Fred Chartrand/CP)
"Yeah! I'm excited!" Leslie told CBC News on Wednesday. "Obviously, this is a non-partisan role. Or maybe the better language is a cross-partisan role."
Leslie, who was the NDP's former deputy leader, lost the Halifax riding to Liberal Andy Fillmore in October's federal election.
Her new job will require her to work out of Ottawa, British Columbia and Nova Scotia
"It's a different role for me, but you'd be amazed by how much that kind of conversation actually happens behind the scenes when you're an elected official. So, it's a role I'm quite comfortable with, trying to bring people to the table from different areas."
Leslie says it was WWF Canada CEO David Miller who "really sold" her on the job.
"He thought that my experience with legislation and my experience with how things work on the legislation scene and my ability to play nicely with other parties were all assets to the organization in terms of them accomplishing the goals they set out in their five-year strategic plan."
Community and conversation
It wasn't just WWF's conservation priorities that appealed to her, she says. The organization's history of working in equal parts with bureaucracy and community is what attracted her to the job.
"Everybody knows their name. But maybe more important to me, they're an organization that understand that if you are going to succeed in conservation or protecting nature you have to have community be part of that conversation."
The job focuses more on environmental policy than science, she says. Leslie cites the Marine Planning Partnership as a big reason for joining their team.
The partnership between British Columbia and 18 First Nations was signed in an effort to manage 102,000 square kilometres of coastline.
Leslie says the way WWF Canada participated in that agreement aligns with her political sensibilities.
"You have to work with First Nations communities and governments. And you have to work with local communities and you do have to work with industry," Leslie said.
"There are three oceans in Canada and I think that's a fantastic model for how we look at ocean management on all our coasts."
Also on HuffPost
Key NDP MPs Defeated In 2015 Election