Rona Ambrose spoke in personal terms about the fight against terrorism in her first speech to the Conservative caucus as interim leader.
And she signaled Wednesday that her official Opposition Tories will push the new Liberal government to reverse its plans to withdraw Canadian jets from combat against ISIL.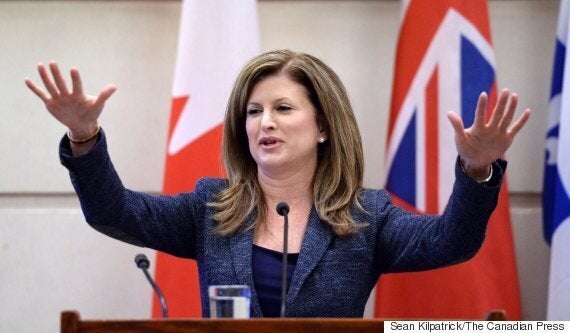 Interim Tory Leader Rona Ambrose addresses the Conservative caucus. (Photo: Sean Kilpatrick/CP)
"The Liberals told Canadians that we should be examining the root causes of terrorism," she said.
Terrorism, she said, is bred from a hatred of "our values" and freedom.
"A hatred of my rights as a woman," Ambrose said. "And my ability to live freely."
Ambrose accused Liberals of seeing the contributions of Canada's air force as a "token effort worthy of a tasteless joke." The jab referenced an incident in October 2014, just before Parliament voted to send the jets to Iraq, in which Trudeau accused then prime minister-Stephen Harper of wanting to "whip out our CF-18s and show them how big they are."
Her quip sparked a few shouts of "shame" from Tory MPs.
"And so the prime minister's first phone call with another world leader was to tell our closest ally that Canada would be diminishing our fight against ISIS and withdrawing our air force, leaving our allies to do the heavy lifting," she said of Trudeau's first conversation with U.S. President Barack Obama.
"Our job as Conservatives is to remind the government that sometimes taking the fight to an enemy is the right thing to do."
Ambrose said the recent attacks in Paris show terror is intensifying.
"And while the allied coalition is ramping up its effort, the Liberals have maintained that our CF-18s would come home," she said.
"Our job as Conservatives is to remind the government that sometimes taking the fight to an enemy is the right thing to do."
That line sparked lengthy applause.
The interim Opposition leader also said her party would fight back against "excessive" Liberal spending and examine every dollar.
"When it comes to overspending, higher deficits, and raising our taxes, they can't say no," she said. "That will fall to us as Conservatives, as the only party that fights for low taxes, balanced budgets and prudent spending."
Dion suggests Liberal plan does more
As Ambrose spoke to her party, Foreign Affairs Minister Stephane Dion was in Brussels for a meeting with his NATO counterparts.
"There are a lot of things where Canada may be a great supporter, instead of delivering two per cent of the airstrikes," Dion said.
According to The Canadian Press, as of Nov. 19, Canada has carried out 199 airstrikes out of a total of 8,289 coalition aids — or 2.4 per cent.
The foreign affairs minister said Canada's position is "well understood" by NATO allies.
On Wednesday, U.S. Secretary of State John Kerry delivered a blunt message at the NATO summit, calling on allies to "step up" in the fight against Daesh — the Arabic reference for the Islamic State.
Kerry said he was "very gratified" allies were bringing more to the effort or planned to increase contributions. He also lauded the leadership of British Prime Minister David Cameron, whose Parliament is set to vote to expand airstrikes into Syria.
However, he also said contributions didn't have to include "troops engaged in kinetic action."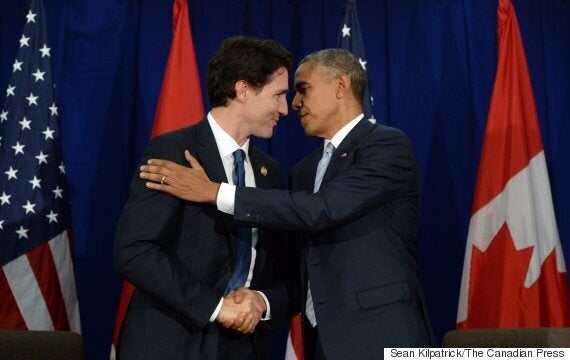 Prime Minister Justin Trudeau meets U.S. President Barack Obama at the APEC summit. (Photo: Sean Kilpatrick/CP)
Trudeau attended a number of international summits last month and had a seemingly warm meeting with Obama at the APEC summit in Manila, Philippines two weeks ago.
The prime minister re-iterated his campaign pledge to withdraw CF-18s from the fight but said Canada would do "more than its part" in the fight against ISIL.
In front of the cameras, Obama announced the Canadian prime minister will visit the White House in the new year and said he aims to visit Ottawa.
"It's going to be a wonderful time of strengthening ties between our two countries both on the economic, on the security, on the engagement with the world and on the personal level," Trudeau said.
With files from The Canadian Press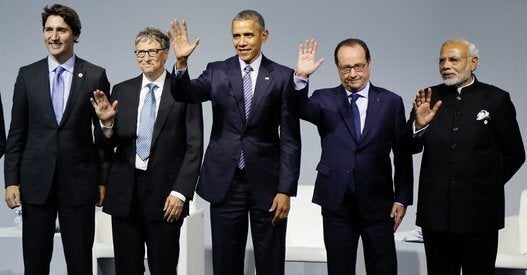 Trudeau's International Debut