hitandrun via Getty Images
Canadian Muslim population to hit 3 million by 2030

Potential $18-billion market for 'Sharia mortgages'

Some argue industry is a 'con job'
Canada is a better choice than the U.S. to be the home of a North American Islamic banking hub, says a new report.
The report from business data organization Thomson Reuters and the Toronto Financial Services Alliance argues Canada has a larger Muslim population, proportionally, than the U.S. and is therefore better-positioned to be a hub for Sharia-compliant banking.
"The geographic concentration of the domestic Muslim population and less complex regulatory environment make it a more attractive market than the United States for home finance," the report stated.
The report sees the potential for a boom in Islamic banking in Canada, noting that Canada's Muslim population is set to rise to 3 million by 2030, or 6.6 per cent of the population, from 1.3 million today.
It sees a potential $18-billion market in Canada for "Sharia-compliant mortgages" by 2020. And it says the Canadian business community's links to Muslim countries would help Canada land a share of the Islamic banking business abroad.
"Canada's asset managers have a wealth of international experience in the responsible finance and Sharia compliant investment space that positions them well to capture a share of the estimated $23 billion responsible Islamic investments market," the report said.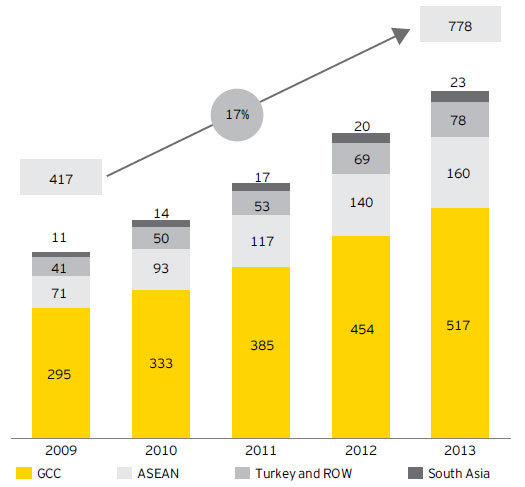 Sharia banking has been growing rapidly in recent years, this chart from E&Y shows.
Observers say the Islamic banking sector has been growing rapidly recently, and the new report says it now has US$1.8 trillion in assets under management. (By comparison, Canada's big five banks have about C$3.3 trillion in assets, combined.)
Sharia banking has become particularly prominent in Britain, where it has found a friend in Prime Minister David Cameron.
The previous Harper government made bringing an Islamic finance hub to Canada a priority. The Conservatives even reportedly helped sponsor the World Islamic Banking Conference, where the Thomson Reuters/TFSA report was presented this week. The governing Liberals have been quiet on the issue.
Islamic banking isn't entirely new to Canada. A number of financial institutions offer Sharia-compliant financial services — take, for instance, CIBC's "halal investing" program.
It took a step backwards in Canada in 2011, when UM Financial, at the time the largest promoter of Sharia banking, went bankrupt.
Charging interest is prohibited under Shariah law, so in the 1970s economists in the Muslim world began pushing for an Islamic alternative to Western banking.
Generally, when Shariah-compliant banks lend money, they become "partners" in an investment or "co-owners" of an asset with the borrower, and collect money as an owner rather than charging interest.
Shariah-compliant banks are also forbidden from being involved in the production or sale of alcohol, tobacco and pork, and can't do business related to gambling, pornography or weapons.
The practice is controversial, even within the Muslim community. When Canada Mortgage and Housing Corp. decided in 2008 to study Islamic banking, the head of the Muslim Canadian Congress called the industry "a con job."
Tarek Fatah said in a letter to CMHC that "religion has no place in the banking or mortgage industry."
A 2006 book by New York-based banker Muhammad Saleem called Islamic banking "a $300-billion deception" (based on the industry's worth at the time) and argued that so-called Shariah-compliant banks are actually charging interest to customers like all banks, except "disguised in Islamic garb."