If you're over the age of eight, you probably don't get the fascination with Elf on the Shelf.
The creepy looking doll was created from the 2005 bookThe Elf on the Shelf: A Christmas Tradition, and just like in the book, the plush toy is supposed to watch over children at night and report any mischief to Santa in the North Pole.
Whether or not the Elf's ability to make children behave actually works is up for debate, but one thing's for sure — with a devious smile of his own, Elf on the Shelf is getting into some trouble of his own.
With the help of some creative adults, photos of Elf on the Shelf getting into all sorts of mischief are commonplace online. In the slideshow below we've rounded up 25 of the cheekiest Elf on the Shelf photos we could find. From buying pills to peeing in bottles to filming Barbie in the bathtub, you'll never be able to look at Elf on the Shelf in the same way again.
And uh, hopefully it's not necessary to point this out, but these pictures are for grown-ups' eyes only.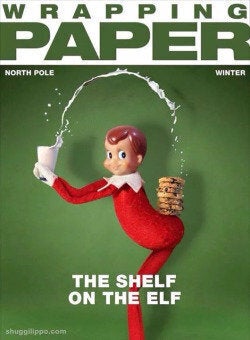 Naughty Elf On The Shelf 2015