The 21-year-old signed a pro deal with Puma, and will forgo his senior season of NCAA eligibility.
"Signing this partnership with PUMA is a major thing for me, in such an important phase in my career," De Grasse said in a release. "I have massive dreams for what I want to accomplish and PUMA clearly shares my belief, they will give me great support along my journey."
De Grasse is coming off a spectacular season that saw him win bronze in the 100 metres at the world championships at just 20 years old. He also swept gold in the 100 and 200 metres at both the Pan American Games and the NCAA championships for the USC Trojans.
De Grasse will continue to work with USC coach Caryl Smith-Gilbert while he completes his degree.
"Andre has risen to the top of the sport very quickly and I'm both happy and proud that USC could be a part of his journey," Smith-Gilbert said. "What Andre accomplished in his short time here at USC was nothing short of amazing, and we look to support him in any way possible as he embarks on his professional career."
De Grasse joins a star-studded group of Puma sprinters that includes Jamaican stars Usain Bolt and Asafa Powell.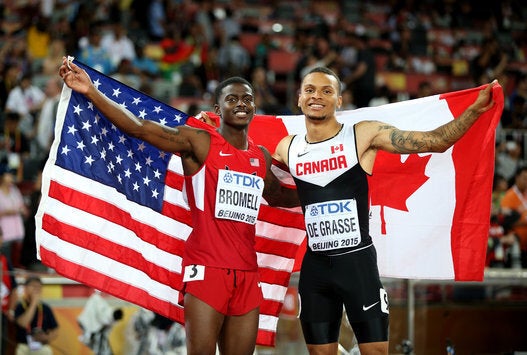 Andre De Grasse In Photos