Boo from "Monsters Inc." may be one of the cutest characters that has ever appeared in a film.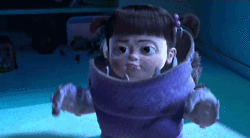 But a little girl who dressed up as her for cosplay purposes could be even cuter than the character she's pretending to be.
The video appeared on the Facebook account for Avalyn Cosplay, a Seattle-based costume design business that makes outfits for events such as comic conventions.
The designer, Amanda, had her daughter perform a "stress test" on the costume.
Here's another video of the adorable toddler from her Instagram:
And here's the full costume in another post:
Boo stole our hearts once. But now a little girl dressed as her has gone and done it all over again.