Thanks to his smash hit "Take Me To Church," Irish singer Hozier has been welcomed all around the world. But the current plight of Syrian refugees reminds him this was not always the case for his countrymen.
"When you look at the treatment of people in desperate need like the Syrian refugees, a lot of the attitudes behind it are informed by subtle racial motives or racist ideas," Hozier tells HuffPost Canada backstage at We Day Toronto where he performed to thousands of youth activists. "That breaks my heart. The world has a long way to go with stuff like that."
But while there has been some public opposition across North America and Europe, Hozier has been heartened by the Irish reaction to the crisis.
"Ireland's history is almost defined by moments where countless people were forced to leave. So Ireland has a long history of immigration and migration, people leaving with famines and war. And the treatment of Irish people where they landed was often varied. A lot of people weren't happy to see them, depending on where they landed.
"So what was very very helpful is we have thousands of refugees trying to apply [to live] in Ireland. I think initially the government pledged for 600 people. [Then] somebody set up an initiative where you could just pledge a bed, and within a day we had something like 6,000 citizens, which has spurned the government into action.
"So it's nice to see that people were aware of that. We have such a difficult history with essentially being refugees. It was hopeful to see that history wasn't repeating itself in that regard."
Public pressure helped pushed Irish Refugee Protection Programme to accept over 4,000" persons seeking international protection," a number which could wind up higher due to subsequent family reunification.
But Hozier points out this isn't the only progressive act in Ireland as of late, pointing out the Catholic country recently held a referendum on gay marriage.
"With 'Take Me to Church' we kind of touched upon LGBT rights and human rights abuses also in Russia that were tied in with that. I think there's a lot of still work to be done there. And I was very, very hopeful and very, very proud that Ireland voted in marriage equality."
Fittingly, considering he was at WE Day, the singer says that best way to push forward is to teach our children about ethics and equality from a young age.
"With a lot of issues, be it LGBT rights or racism, you're dealing with an ingrained prejudice or preconceived ideas which trickle down through generation to generation," he says. "It's so easy to be blind to them because we're so desensitized to the injustices that are in our society. But if you educate people on them from a young age that would be a good place to start."
The We Day broadcast airs Saturday, Dec. 5 at 7 p.m. EST on CTV, and Monday Dec. 7 at 9 p.m. EST on MTV.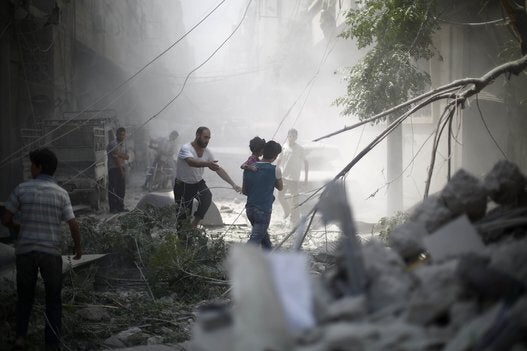 The Syrian Refugee Crisis In Numbers