A veteran Conservative MP thinks a lot more could get accomplished if members of Parliament would just hold their applause.
As Parliament resumed Thursday with talk of improving decorum, Jason Kenney took to Twitter with a "modest proposal" for reform — banning members from clapping in the House of Commons.
"Thoughtful debate does not need constant standing ovations," he wrote.
1/ My modest proposal for Parliamentary reform: stop the applause. Thoughtful debate does not need constant standing ovations.

— Jason Kenney (@jkenney) December 3, 2015
Kenney also flagged that there's a long-standing rule against applause in the British Parliament and suggested such a change would "turn down the volume" and reduce partisanship in Ottawa.
2/ Adopting the Westminster Mother Parliament's no-applause rule would turn down the volume & partisanship, & improve general decorum, IMHO.

— Jason Kenney (@jkenney) December 3, 2015
A reporter quickly pointed out that Kenney, a former senior cabinet minister in Stephen Harper's government, often applauded in the House. Kenney responded that while that's "the current practice," he'd still like to see a change.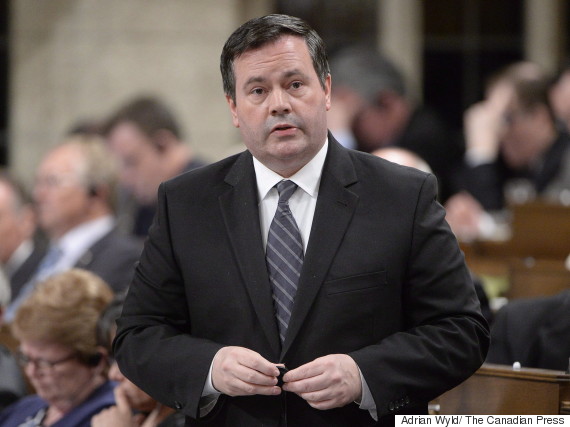 Jason Kenney speaks during question period in the House of Commons. (Photo: Adrian Wyld/The Canadian Press)
In September, members of Quebec's national assembly voted unanimously to stop the practice of applauding during question period. The change allows more time for questions to be asked.
New Speaker: 'I will not tolerate heckling'
Kenney made no mention, however, of heckling — something Geoff Regan, the newly elected Speaker of the House of Commons, told MPs he would not stand.
"I will not tolerate heckling," Regan said shortly after winning the coveted post. "We don't need it. We will not tolerate unparliamentary conduct."
The remark immediately sparked some jeers and, well, heckles.
The veteran Liberal MP spoke about elevating the "tone" in the House to reconstitute decorum.
"Mutual respect, despite our differences, is essential," he said.
Regan even urged members to think of the 116,000 Canadian soldiers buried overseas who "fought so that we could hear, speak freely and express our different opinions."
"Let us here resolve to conduct ourselves in this place, that we might be worthy of the sacrifices they made.''
"Thoughtful debate does not need constant standing ovations."
— Jason Kenney
Justin Trudeau struck much the same tone in his first speech to the House as prime minister. He said he had confidence Regan will promote respect and "thoughtful debate between members" on both sides of the Commons.
"Moving forward, I know that is important that we have constructive debates in this place on issues that Canadians have told us matter to them," Trudeau said, adding that his government aims to bring reforms to question period.
Question period set to change
Liberals pledged in their platform to give the Speaker more power to sanction members and allow more time for debate. The party also said it would look at ways to make question period more relevant, "including the use of online technologies."
Liberals intend to introduce a "prime minister's question period" — similar to the process in Britain in which the PM spends 30 minutes, once a week, answering questions from MPs, including those in his or her own backbench.
On the campaign trail in October, the Huffington Post Canada's Althia Raj asked Trudeau if that indicates he would be frequently absent from question period. When he wasn't travelling or on other business, Harper typically attended question period three times a week. The former prime minister usually reserved his responses to questions from party leaders.
Trudeau did not promise at the time that he would be present in the Commons at least three times a week to answer questions.
"I'm not going to make commitments about staying away from Canadians," Trudeau said. "One of the things that is extremely important for prime ministers is to stay connected to the people that they're serving."
ALSO ON HUFFPOST:
Canada's Parliament Returns