After Erin Deely's son Brayden was diagnosed with autism at the age of three, the North Carolina mom thought it would be impossible get the perfect Santa photo.
"I thought we would never get those holiday pictures with him because it's something he can't handle -- the noise and the pressure," she told People. "He gets anxious if you ask him to smile, it's all too much for him."
But thanks to the Caring Santa program, organized by Autism Speaks, Deely and her husband were able to get the holiday photos they've always wanted and give their son a stress-free meeting with Father Christmas.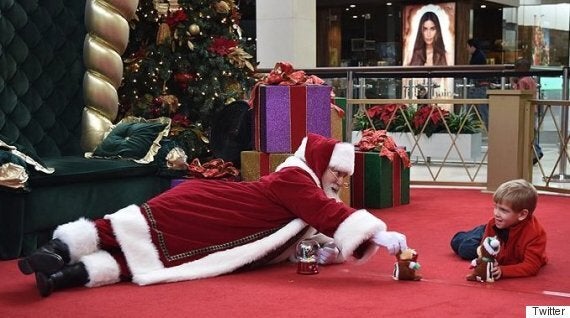 The program took place at Charlotte, North Carolina's SouthPark mall after all the stores had closed. Thanks to the calm environment, 6-year-old Brayden was able to meet Santa on his own terms.
"They let you take all the time you need to let him warm up to Santa, so Brayden started out far away," Deely explained. "He knew who Santa was, but he was shy."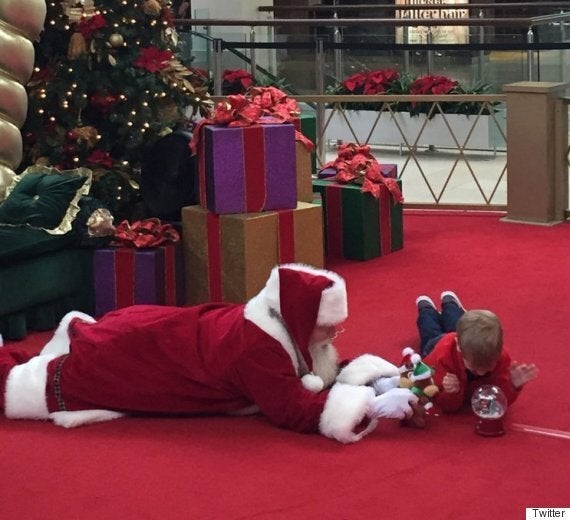 Since Deely was unable to convince Brayden to sit on Santa's lap, the jolly old man decided to lay on the floor with the young boy to make him feel more comfortable.
"He got down on his stomach and just started playing with him," Deely said. "They didn't even talk to each other, really, they just bonded and played, and Brayden started to be really excited and started looking at him and smiling."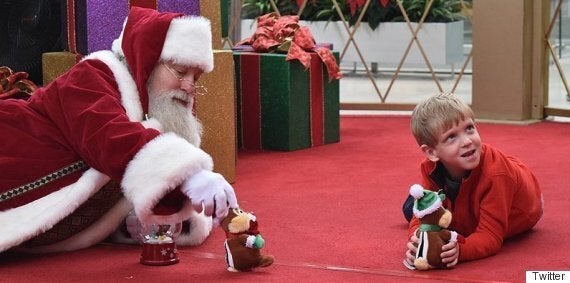 Deely said it took Brayden about 20 minutes to warm up to Santa, ABC News reports. Grateful for the experience, the mom said: "Oh my gosh, to be able to do something that other families do... normally a lot of things are harder for us as a family. We got to do the same tradition as everyone else, we just do it on the floor."
Speaking about Santa, she later added: "I just want to hug this man. He's so wonderful!"
The Caring Santa program has locations in more than 120 cities across the U.S. and Canada. Most Santas already work in malls, but receive additional training to learn how to better connect with kids with autism.
Maeghan Pawley, the member of Autism Speak's Family Services team who took Brayden's photo, said: "The whole staff (Santa included) was overly accommodating for all of our kids, really trying to get the best picture and create the best experience possible, regardless of how much time or patience was needed to do so."
This isn't the first time we've seen an adult lie on the floor to make a child with autism feel more comfortable. Last month, a UK barber used this genius technique to give a little boy with autism his first real haircut.