TORONTO — The Canadian dollar was down more than half a U.S. cent Monday morning as crude oil futures traded below US$39 a barrel. The loonie traded at 74.21 cents US, after falling 0.55 from Friday's close. It was the lowest level for the loonie since 2004,
Reuters reported
.
Loonie vs. USD, Dec. 2010-present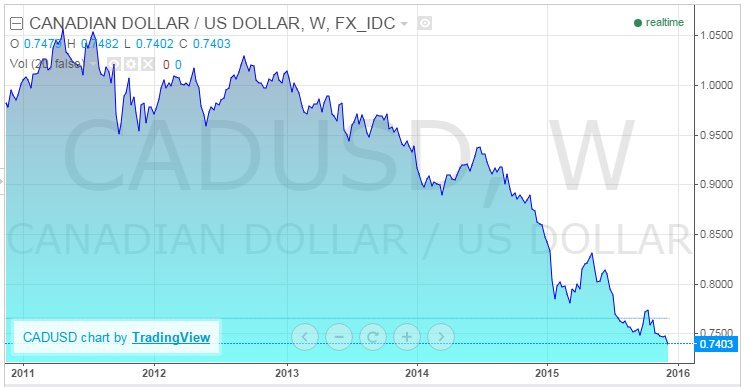 The Dow Jones index futures were down 32 points at 17,787.0, theS&P 500 futures fell 1.9 points to 2,086.5 and the Nasdaq futures gained one point to 4,714.3. On the commodity markets, the February gold contract fell $4.10 to US$1,080.00 an ounce, the January crude contract was down $1.14 at US$$38.83 per barrel and the January contract for natural gas was down six cents at US$2.13. On Friday, Toronto's S&P/TSX composite index rose 34.10 points to close at 13,358.77, ending the week of trading at practically the same level it began.
Canadian Dollar Through History