Sorry, Jar Jar Binks, yousa not play in new "Star Wars" movie.
The producers of the hit sci-fi franchise have delivered the best bit of news we've heard leading up to the release of "Star Wars: The Force Awakens" on Dec. 18.
Jar Jar, the much-reviled character from the prequels, will not feature in it, producer Kathleen Kennedy said at a Sunday news conference reported by Cnet.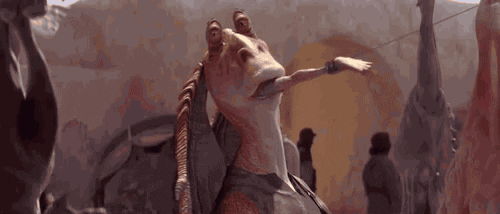 That's right, eat it, Jar Jar.
Kennedy was greeted with cheers and clapping when she confirmed Jar Jar is "definitely not in the new movie," The Guardian reported.
That's great news for "Star Wars" fans and anyone else who plans on seeing the new film.
Jar Jar first appeared in "Star Wars: Episode I — The Phantom Menace."
The character was a clumsy Gungan from the planet Naboo who assisted Obi-Wan Kenobi (Ewan McGregor) and Qui-Gon Jinn (Liam Neeson) on their mission to protect Queen Amidala (Natalie Portman).

Though intended to provide comic relief, Jar Jar grated on audiences who didn't find him funny or had a problem with his accent, which some called racially insensitive.
He ranks at number one on ABC News' list of the 10 worst characters in film and TV history.
More recently, however, Jar Jar became the subject of a popular fan theory that suggested there was much more substance to his bumbling persona.
The theory proposed that Jar Jar was actually a sinister villain all along, guiding events from behind the scenes. And his foolish appearance was all just a cover.
Kennedy also announced that the Ewoks from "Star Wars: Episode VI — Return of the Jedi" will not appear in "The Force Awakens."
The Ewoks were cute, furry creatures who inhabited the planet Endor in the 1983 film. They were criticized as a blatant attempt to pander to children and boost merchandise sales.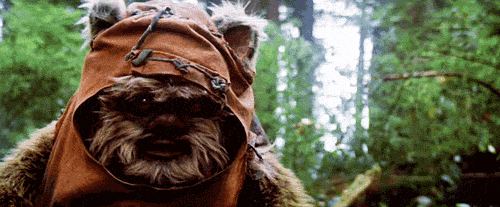 We can't rule out that we might meet another character we don't like in "The Force Awakens."
But for now, no Jar Jar is all good news.
Like Us On Facebook

Follow Us On Twitter

Also on HuffPost
"Star Wars" Toys To Buy Your Kids This Christmas