TORONTO — Justin Bieber fans lined up for over 24 hours to get a prime seat at his sold-out Toronto benefit concert scheduled for Monday evening, the same day he landed a Grammy Award nomination.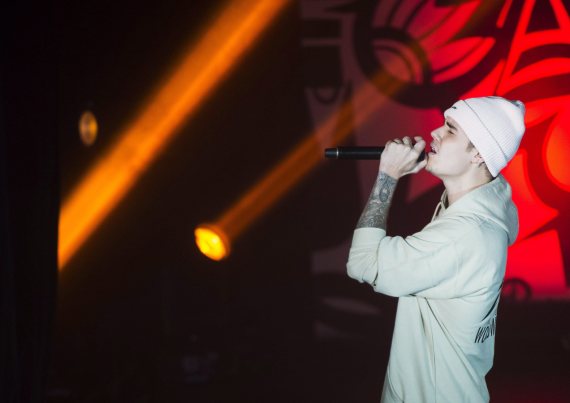 Canadian Singer Justin Bieber performs live during a small concert for charity in Toronto on Monday, December 7, 2015. (Nathan Denette/CP)
"I already have tickets for the May concert, but this one is just so intimate and it's a smaller venue, so it leaves for more opportunity to get closer to him.... And the proceeds are going to a really good cause,'' said Taylor Bousfield, 21, of London, Ont., who arrived at the Danforth Music Hall at 11 a.m. on Sunday to secure a good spot at the general-admission show.
"I'm (a) big (fan), but after today, I've seen way crazier, to a whole other level.''
Proceeds from the acoustic concert will go the Stratford House of Blessing in Bieber's hometown of Stratford, Ont. The outreach centre has a food bank and services to help those in need.
The organization says Bieber's mother used its services when he was little.
The lineup to get into "An Evening With Justin Bieber'' at the approximately 1,400-seat venue stretched around the block before the doors opened. Tickets, which were priced at $100 each, quickly sold out when they went on sale last Tuesday.
"I have such anxiety, it's crazy."
"It's pretty stressful,'' said Bousfield, who took a bus to the city and camped out overnight with a friend in front of the venue in hopes of securing a front-row spot. They barely slept and planned to still show up at school for exams on Tuesday.
"I have such anxiety, it's crazy,'' she added.
Danielle Leonard, 15, from Richmond Hill, Ont., called it a "once-in-a-lifetime experience."
"At shows at the Air Canada Centre and Rogers Centre, they're not as special as this one,'' said Leonard, who had been camping out at the venue with a friend since 7 p.m. on Sunday.
"There's a little amount of people and they're all worshiping the same person that you are, rather than like 50,000 people being there. Like, he's actually paying attention to the people in the crowd.''
Bieber has helped out the Stratford food bank before.
Last year, he and his grandmother donated several of his childhood items for the group to auction off on eBay.
The 21-year-old pop superstar has also donated $10,000 to the group.
Bieber has been riding high on the charts with his new album "Purpose,'' which includes the hits "Sorry'' and "What Do You Mean.''
On Monday he got a Grammy nomination for best dance recording for "Where Are U Now,'' a collaboration with Skrillex and Diplo.
Also on HuffPost
The Evolution of Justin Bieber