In her first address to the House of Commons as the interim leader of the Conservatives, Rona Ambrose spoke with optimism about historians one day looking back on this period as "the great Parliament."
She pledged that the new Liberal government of Prime Minister Justin Trudeau would have her party's support when acting on "the best interests of Canadians."
And she issued a cheeky warning to Trudeau about what might happen if he falls short.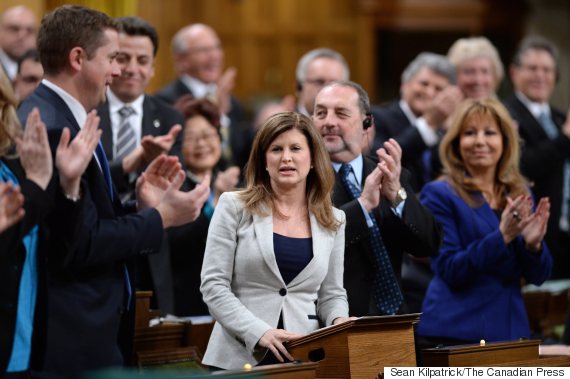 Opposition Leader Rona Ambrose receives applause during question period. (Photo: Sean Kilpatrick/CP)
"If the prime minister is wondering what I'm prepared to do when he does not act in the interest of Canadians, to him I say, 'Just watch me,'" she said. The nod to the words of Trudeau's famous father sparked laughter and applause.
In her first question period as Opposition leader Monday, Ambrose challenged Trudeau directly on his plan to withdraw Canada's CF-18s from the fight against ISIS.
"Why is the prime minister stepping back from the fight when our allies are stepping up?" she wondered.
Her task will be to keep party strong
Ambrose has big shoes to fill for a party that has largely only known one leader and now finds itself on the other side of the House after nearly a decade in power.
She is promising a new tone and has promoted women to fill key portfolios, including Lisa Raitt as finance critic.
With a Conservative leadership race still somewhere far off on the horizon, her task will be to keep her party strong — and unified — until she can hand the reins to Harper's permanent successor.
And for those who see a strong opposition as central to good government, she will have much to prove in the months to come.
Ambrose will sit down for a one-on-one interview in Stornoway Monday with Althia Raj, The Huffington Post Canada's Ottawa bureau chief.
And we want to know what you want to know.
What's your question for the interim leader of the Conservative Party of Canada? Tell us in the comments and we may select your question to ask Ambrose directly.
On the campaign trail, your submitted questions were taken directly to Trudeau and Green Party Leader Elizabeth May.
While we expect tough questions, please remember to keep things thoughtful and respectful. And don't forget to check back here to watch parts of the interview and read Ambrose's answers.
You can also reach out to us on our Facebook pages — The Huffington Post Canada and The Huffington Post Canada Politics — and Althia Raj's page. Or send us a question on Twitter with the hashtag, #AskAmbrose.
Also on HuffPost
Canada's Parliament Returns