Some parents really spoil their kids, but this is a little outlandish.
"Furious 7" actor Tyrese Gibson revealed to Entertainment Tonight last week that he recently bought an island for his eight-year-old daughter Shayla.
Gibson was responding to a question about the most lavish or over-the-top gift he'd given or received.
"Well, I just bought my daughter an island," he said.
"Can't say [where]," he continued. "She knows all about it and the island is called Love Island. I'll be putting it up on my Facebook soon."
We don't know for sure if this is a Christmas gift, but it comes close enough to the holidays that Gibson will likely have trouble topping this one on Christmas Day.
Shayla is already pretty grown up, at least compared to most other eight year olds — not only does she have her own island, she helped her dad write a series of books, the actor told People in March.
The books are about "bullying, faith, sharing, being courteous and nice," he said.
She also accompanied him to the American Music Awards last month, mingling with celebrities in a gold embroidered dress and orange-red lipstick.
During the event, she told ET that she even has her own business, even though it doesn't have a name yet.
"I sell drinks. I get a lot of money!" she said.
Gibson also told the outlet that his daughter and her future is hugely important to him.
"For me I'm just really focused on being able to leave a legacy for my little angel to take over. She's my boss I work for her. Every deal I close is on her behalf. So when I travel, every meeting, lunch, conversation I have is directly inspired by Shayla."
It's good to be Tyrese Gibson's kid.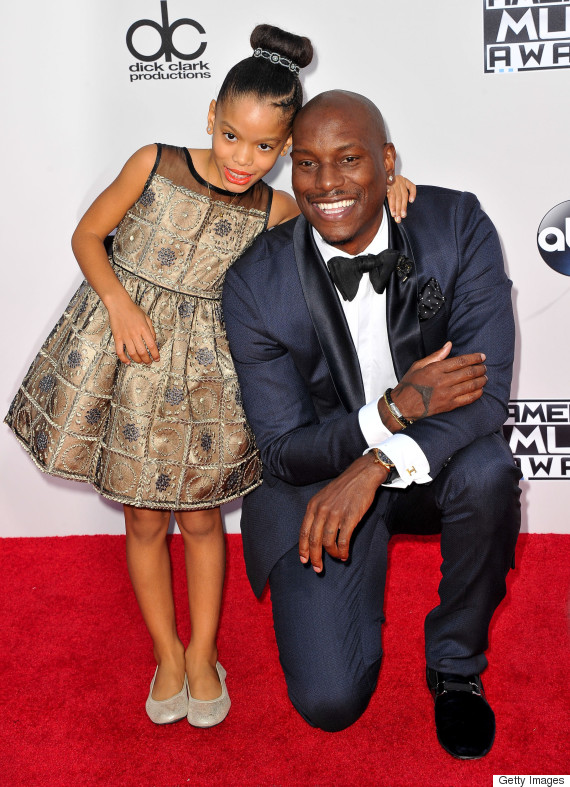 LOS ANGELES, CA - NOVEMBER 22: Actor/singer Tyrese Gibson and daughter Shayla Somer Gibson arrive at the 2015 American Music Awards at Microsoft Theater on November 22, 2015 in Los Angeles, California. (Photo by Axelle/Bauer-Griffin/FilmMagic)
Also on HuffPost
Best Celebrity Baby Names Of 2015