Just 19, Vancouver-born MMA fighter Angela Lee showed a repertoire well beyond her years last month when she stopped Australian Natalie Gonzales Hills in Singapore using a rare twister submission.
It was the first such submission in the history of the Asia-based One Championship promotion. And it's only happened once in the UFC, in 2011 when Chan Sung Jung — better known as the Korean Zombie — stopped Leonard Garcia. (Watch video above.)
Lee is turning heads, literally.
Essentially the twister involves a nasty corkscrew-like twist of your opponent, pulling the lower body one way via a leg triangle and the upper body the other way by neck crank.
"It's quite an uncomfortable position,'' Lee said with a giggle. "You feel if you don't tap, you're going to be snapped in half, twisted in half, I guess.''
Lee, a strawweight who now makes her home in Hawaii, goes after her fourth win in as many pro fights Friday when she faces 26-year-old Pole Lena Tkhorevska (3-1) on One Championships' "Spirit of Champions'' card before a soldout crowd of 20,000 at the Mall of Asia Arena in Manila.
Her 17-year-old brother Christian makes his pro debut on the card against Australian David Meak (1-4). The rest of the family, as well as her Angela's grandparents from Vancouver, will be on hand to see the show.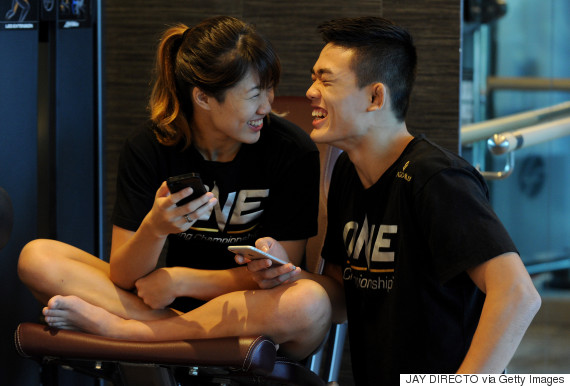 Angela 'Unstoppable' Lee and her brother Christian (R) laugh after a practice session at a hotel gym in Manila on Dec. 7, 2015. (Photo: Jay Directo/AFP/Getty Images)
The main event features former UFC fighter Brandon (The Truth) Vera (13-7) against British heavyweight Chi Lewis-Parry, a six-foot-nine former pro basketball player in Europe who has won all six of his MMA bout.
Martial arts is a family affair for the Lees, who are based out of Mililani on the island of Oahu. Father Ken and mother Jewelz are decorated martial artists who teach at their United MMA gym in Waipahu where Angela and Christian are also instructors.
Angela's younger sister Victoria, 11, and brother Adrian, 9, train six days a week in martial arts.
"They have so much potential,'' Angela said, "They're learning techniques now that me and Christian didn't even know of back then.''
"As long as I'm healthy, I'm always down to fight."
Ken was born in Singapore and Jewelz in South Korea. She moved to Hawaii at a young age while he came to Canada at the age of four. They met in Hawaii when Ken went there for high school, moving to Canada after graduation and eventually marrying.
Angela lived in Vancouver and elsewhere in Canada until she was seven, when the family moved to Hawaii.
Growing up, she won a junior world title in pankration, which combines boxing and wrestling, while competing in other martial arts.
A brown belt in Brazilian jiu-jitsu, the 115-pounder has won all three MMA pro fights — as well as three amateur bouts — in the first round. Her pro debut ended via armbar in May, with her second outing featuring a rear-naked choke finish. Add in the twister submission and her pro career has lasted just seven minutes 56 seconds.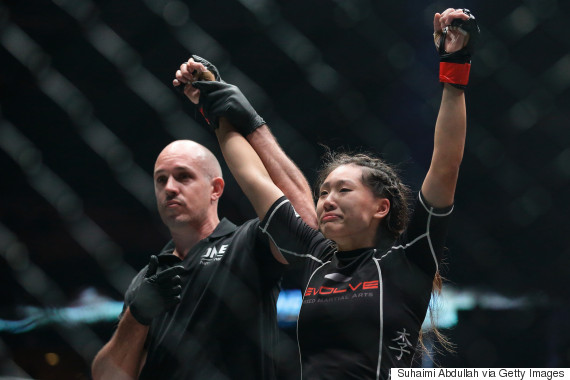 Angela Lee of Singapore celebrates after defeating Natalie Gonzales Hills of Philippines on Nov. 13, 2015 in Singapore. (Photo: Suhaimi Abdullah/Getty Images)
The short outings means she has little down time between fights. Friday marks her third fight since Sept. 27.
"As long as I'm healthy, I'm always down to fight,'' she said.
That's good news for One Championship. With her looks, skills and bloodlines, the five-foot-four Lee is a dream fighter for the organization run by Canadian-born chief executive officer Victor Cui.
Both Lees fight under the Singapore flag.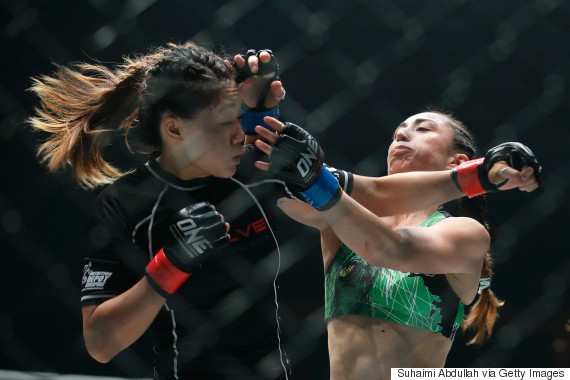 Angela Lee, left, fights Natalie Gonzales Hills of Philippines on Nov. 13, 2015 in Singapore. (Photo: Suhaimi Abdullah/Getty Images)
The organization features three female divisions: atomweight (105 pounds), strawweight (115) and flyweight (125) and hopes to crown women's champions in 2016.
Lee, whose nickname is Unstoppable, prepared for Tkhorevska with the Evolve fight team in Singapore, where she trained with One Championship title-holders Ben Askren and Dejdamrong Sor Amnuaysirichoke.
Back home, she is trained by her father. It was through his ties to Matt Hume, a renowned American trainer who now serves as a vice-president with One Championship, that Angela found her way to the Asian circuit.
Angela, who has dual Canadian-American citizenship, graduated from high school in 2014.
Follow @NeilMDavidson on Twitter.
Also on HuffPost