Ogichita Nini/SGDSB
A northern Ontario school board is turning to artists for help on a new project putting together a First Nations-focused colouring book for students.
Nicole Richmond of the Superior-Greenstone District School Board says the project was inspired by teacher Barb McGill, known for using an Oji-Cree colouring book from Sandy Lake First Nation in her classrooms.
"She was using old photocopies from the book and when I looked for it, I wasn't able to find a copy," Richmond told The Huffington Post Canada.
So board officials reached out to the community with an idea to publish its own.
A callout was released Thursday asking artists to submit Woodlands-style art — characterized by its strong outlines of nature- and people-themed scenes accentuated with bright colours — for consideration in the colouring book.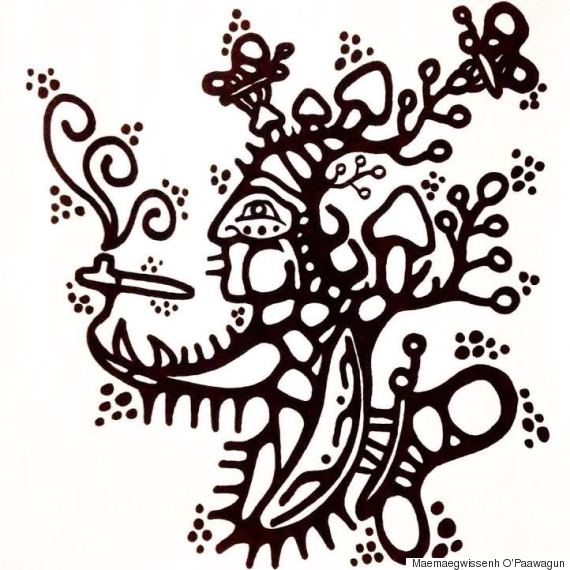 A sample woodlands-style colouring book submission. (Maemaegwissenh O'Paawagun)
"Our woodlands style colouring book will enable students to learn about this vivid style rooted in Anishinabe culture, the Boreal forest, visions and dreams," reads a poster asking for submissions.
Because the school board serves nine Anishinabek (Ojibway) communities, any opportunity to delve deeper into First Nations culture is embraced, Richmond said.
She added that in some local schools, up to 90 per cent of the students are First Nations learners.
"It is an important time in Canadian history where we are working towards reconciliation — mutual respect and understanding for all cultures, between First Nation and non-First Nation students."
Richmond called a colouring book a "very simple" way to make a strong impact among with the next generation.
She used famous words once said by Métis leader Louis Riel to underline how art and culture are intertwined: "My people will sleep for 100 years, and when they awake, it will be the artists who give them back their spirit."
Artists have until Jan. 30, 2016, to submit their drawings.
Also on HuffPost:
Meet Canada's Indigenous MPs