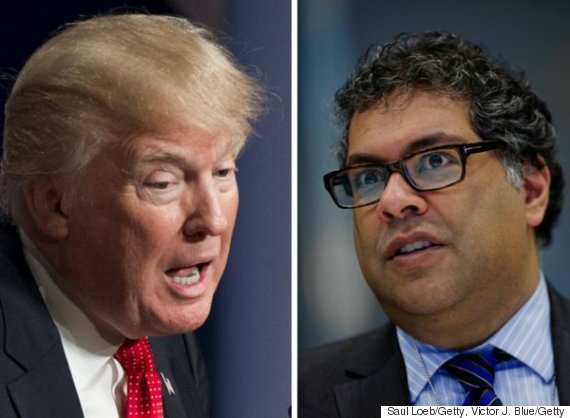 Calgary Mayor Naheed Nenshi is comparing U.S. Republican presidential candidate Donald Trump's antics to those of an Internet troll.
Nenshi slammed the businessman's call to forbid Muslims from entering the U.S., saying the billionaire's comments have a "real impact" on real people.
"We've been hearing a lot of divisive language in a lot of corners of this country and in other places in the last few months, and you know, it's easy to dismiss stuff like this as a joke. It's not funny anymore," the mayor told CBC News on Tuesday.
"It's like online commenters are running for president," he added, according to Metro News.
Nenshi, who is the only Muslim mayor of a major North American city, initially responded to Trump's widely-criticized views on Twitter with a bit of lighthearted banter — but is known for is advocacy against discrimination.
No one tell my mum and sister they have to cancel their Hawaii vacation. https://t.co/7pjYSETl1O

— Naheed Nenshi (@nenshi) December 8, 2015
Nenshi called on Calgarians to stand up against racism after hateful graffiti was spray-painted all over a C-train last week, the Calgary Herald reported.
Like Us On Facebook

Follow Us On Twitter

Also on HuffPost:
Donald Trump Is Basically Regina George