When an Ottawa-area animal sanctuary encountered a sick beaver, it issued what may be the most Canadian call for help of all time.
Volunteers with the Rideau Valley Wildlife Sanctuary picked up the critter from someone's backyard, far away from water, according to CBC News.
Heather Badenoch, a volunteer board member with the sanctuary, described the beaver as "dehydrated, underweight and lethargic."
She said the sanctuary wasn't equipped to care for the beaver, who needed to be transported to the Aspen Valley Wildlife Sanctuary in Rosseau, Ont. near Parry Sound— over 400 kilometres away— on Wednesday.
The sanctuary put out an urgent call on Facebook and Twitter on Tuesday afternoon for a Good Samaritan beaver taxi driver.
URGENT: Sick beaver needs ride from #OttCity to Rosseau (near Gravenhurst + Parry Sound). #OttNews @JimWatsonOttawa pic.twitter.com/umfx6bY8Ga

— Rideau Wildlife (@rideauwildlife) December 8, 2015
Less than an hour later, Mary Hebert stepped forward.
"I saw it on Facebook this afternoon," Hebert told the Ottawa Sun. "I saw it and I just thought that I can do it. It's a drive I know."
"It's just a volunteer organization that needs assistance with animals; this is just something that I knew I'm available to do it."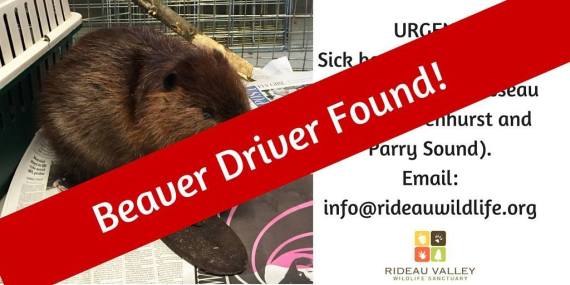 The Rideau Valley Wildlife Sanctuary found a volunteer driver within hours. (Photo: Rideau Valley Wildlife Sanctuary Facebook page)
Badendoch called Hebert "lovely."
"She has no other reason for going. She used to have some beavers near her house," she told the Sun.
ALSO ON HUFFPOST: