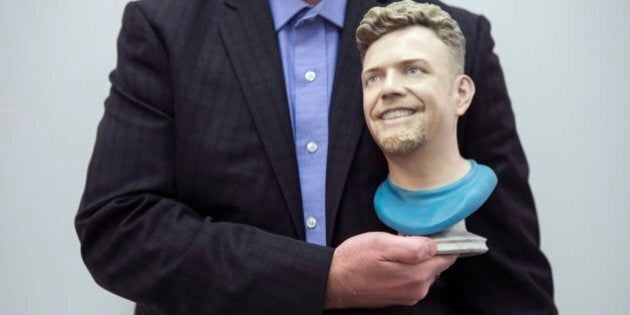 TORONTO — Holding a lifelike miniature version of yourself in the palm of your hand is a tad unsettling at first — but once the initial shock wears off, a strange fascination begins to set in.
That's the experience Selftraits, a Canadian 3D printing business, bets will trigger a swirl of enthusiasm around its "3D selfies" in the coming months.
After years of giving a family portrait to grandma for Christmas, the Toronto-based company hopes more people will substitute their old traditions with a pocket-sized figurine that fits as nicely on a fireplace mantle as it does atop a wedding cake.
"The key here is capturing a moment in time and a memory," said Steve Cory, the founder of Selftraits.
"These little figurines are going to capture exactly who you are."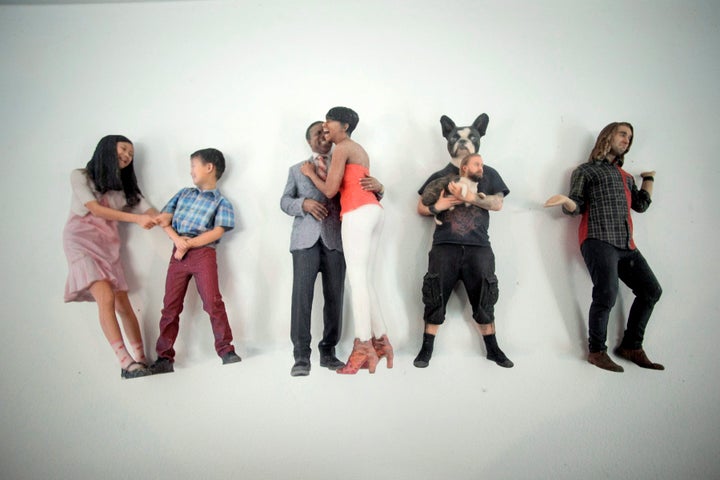 Miniature models are displayed at the Selftraits downtown Toronto store on Monday December 7, 2015. (Canadian Press photo)
He readily admits the whole idea appeals directly to people who are willing to entertain their narcissistic side. But it also attracts the curious who have sauntered into the company's storefront in downtown Toronto.
Some of them walk inside with their jaws dropped as they stare at realistic models of past customers on display throughout the showroom.
If they're brave enough, the onlookers can step inside the Selftraits photo booth at the back of the store themselves, strike a few poses and put their own 3D model into production.
The process begins with the tent-like booth where 135 synchronized Canon Rebel T3i cameras capture the subject from every angle. Selftraits' staff encourage action shots, like a kick or a jump, which bring another level of showmanship to the 3D image.
"A lot of people bring props and costumes and try to do something really interesting," Cory said.
Many customers have gone further with their imaginations.
One man brought his dog into a shoot and then had the staff digitally swap their heads with each other.
Another surprised his girlfriend by popping the question while the cameras snapped images of his proposal. A multi-stage figurine of that moment now sits on display at the company's headquarters.
The figurines are assembled in a 3D printer, building layer upon layer of the image as it swipes back and forth through a bed of gypsum powder.
Prices start at $120 for a five-inch, full-colour model and can climb well above a thousand dollars, depending on size and complexity.
Selftraits is just one of several companies that have made a foray into the "3D selfie" business in Canada.
It is the sister company of Objex Unlimited, a 3D printing business on the outskirts of Toronto that Corey started after reading an article on the breakthrough printing technology in the Economist nearly five years ago.
"I couldn't believe the possibilities," he said.
With a background in mathematics, and no training in design, Cory decided to dive into the world of 3D scanners and printers while it was still in its infancy.
He still sells printers and runs a business that handles industrial orders for 3D plastics, but with Selftraits he hopes to resonate with the average person looking to have fun with the technology.
The company has partnered with George Romero to make a 3D model of the "Night of the Living Dead" director holding a severed zombie head. Fans can pay a premium price to have their own head in Romero's hand.
Another spinoff of the business promises to bring your pets back from the afterlife, even if they never have been in the photo booth.
The company says it can take two-dimensional images of Sparky and painstakingly create a three-dimensional model that it can run through its printers.
"Frankly, it's one of the most emotional products I've ever sold," Cory said.
"People cry almost every single time when they open the box and look at their pet. It's really amazing to see the reaction."
Cory wants to push the boundaries even further in the future.
Selftraits is trying to get a portable version of the studio into various events, like trade shows and fundraisers. Another idea they've experimented with is making 3D images from CAT scans and MRIs.
Cory said his hope is that one day he'll convince Canadian rapper Drake to turn his heart into a 3D model.
He stops for a moment and admits that might sound a little creepy.
But the idea is kind of cool.