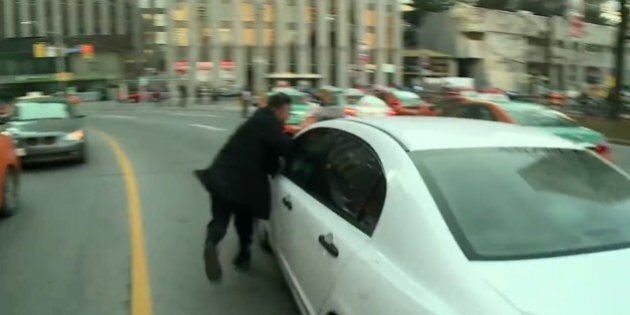 Some of Toronto's busiest streets ground to a crawl Wednesday morning as taxi drivers across the city protested the Uber ride service.
Cab drivers slowed down traffic at major access points to the city, such as Highway 427, the Don Valley Parkway and the Gardiner Expressway, the Toronto Star reported. Police issued tickets to some drivers for driving too slowly.
Tempers flared at City Hall, where several dramatic incidents were captured on video. In one that is now going viral, a cab driver is seen being dragged through a busy intersection by what he said was an Uber vehicle.
The CBC reports the driver, a 22-year veteran of the taxi business, was unhurt after the incident.
"We are trying to get a point across, that's what we're trying to do," he told reporters.
"Uber is going to be like ISIS," he says. "Uber is ISIS. You know what ISIS means?"
"That's going a little bit too far, my friend," Global reporter Mark McAllister says off camera.
Like some other drivers at the protest, the cabbie accused Toronto Mayor John Tory of failing to enforce the law in regards to Uber. Although police in the city have run stings, charging drivers with violations of the traffic act, cabbies say it's not enough. As a rule, Uber pays its drivers' fines, and the service continues to operate largely unfettered in the city.
Tory has in the past expressed support for Uber, but has softened his stance somewhat since cabbies started protesting. The city is currently looking at ways to rework regulations so that Uber can operate legally, but the process is moving slowly.
Speaking about the protests on Wednesday, Tory called for an end to "these kinds of dangerous and disruptive activities," the Canadian Press reported.
Other confrontations were also captured on video.
UberX, the paid service of Uber, has been operating in Toronto for little more than a year. Some cab drivers say they have lost half their income to the service, but most estimates of Uber's impact don't see it being quite that big.
The city went to court last summer asking for an injunction that would shut down the ride service permanently. A Superior Court judge refused to grant the request, arguing that the city was wrong to define UberX as a taxi service, and that the matter should be decided by legislators.