CP
PARIS — Federal Environment Minister Catherine McKenna has expressed deep concerns about opposition at the international climate conference to what she called a "critically important" issue — the rights of Aboriginal Peoples. "The (final) agreement must recognize adequately the importance of respecting human rights and the rights of indigenous peoples," McKenna told a plenary session early Thursday. "We are deeply concerned that the reference to human rights and rights of indigenous peoples" was still being challenged, she added. The deadline for the release of the final agreement is Friday, when the conference ends.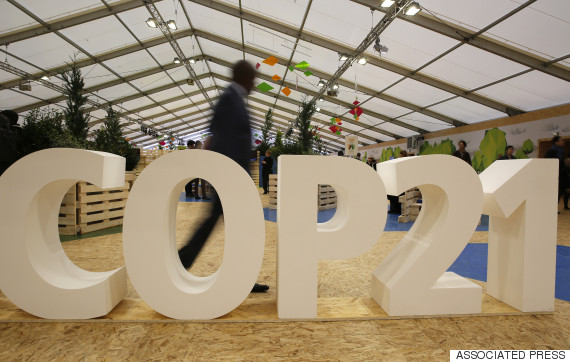 A man visits the Climate Generations Areas, part of the COP21, the United Nations Climate Change Conference on Dec. 1, 2015 in Le Bourget, north of Paris. (AP Photo/Christophe Ena)
Ontario Environment Minister Glen Murray, who is attending the Paris conference, urged McKenna to stand firm in pushing for the respect of native rights in the final agreement.  "We in Ontario would like to see the government of Canada continue to support our relationship with indigenous people," he said. Indigenous rights and climate change were also on the agenda Thursday in Gatineau, Que., where the Assembly of First Nations was holding its annual special chiefs assembly. Two young girls from Wikwemikong First Nation on Ontario's Manitoulin Island, dressed in traditional ceremonial robes and headdresses, brought the house down with emotional appeals that cast the climate fight forward a generation. "I promise my future children we will work to make this planet green and keep it that way," 12-year-old Francesca Pheasant told the chiefs.
"It has to have a base that's solid, that's concrete - and that includes a place at the table .... First Nations have to be there."
— Tom Mulcair
"Some of our world leaders are worried about war. We need to also worry about climate change because it is happening now and it is happening fast. We have to stop it before it gets so bad we can't do anything about it." Autumn Peltier, 11, then warbled an Anishinaabe song of prayer for the earth's water, breaking into sobs as she sang but finishing nonetheless. She left most of assembly hall in tears. "This young child-woman that brought forth tears, it's the tears of Mother Earth," Francois Paulette, the acting regional chief for the Northwest Territories, said in response. "That's where we are in our history of our world. Climate change, global warming, is happening." NDP Leader Tom Mulcair, who had earlier addressed the gathering, told reporters talk of a nation-to-nation approach is not enough. "It has to have a base that's solid, that's concrete - and that includes a place at the table .... First Nations have to be there," he said. On Tuesday, Prime Minister Justin Trudeau told First Nations leaders that a new relationship based on recognition of rights, respect, co-operation and partnership needs to be established with Aboriginal Peoples. - with files from Bruce Cheadle in Gatineau, Que.
Also on HuffPost: