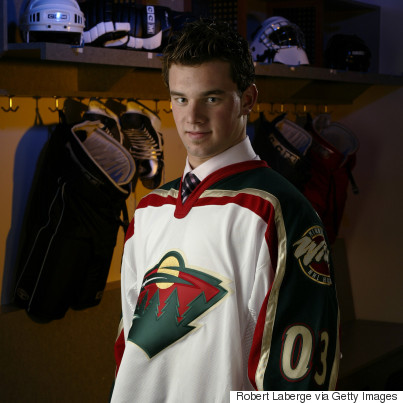 Patrick O'Sullivan, a second round pick of the Minnesota Wild, poses during the 2003 NHL Entry Draft on Nashville. (Photo: Robert Laberge/Getty Images/NHLI)
Retired NHL player Patrick O'Sullivan has revealed searing details about abuse he suffered at the hands of his father as a young prospect, as well as stern advice for today's hockey parents.
O'Sullivan, a centre who was drafted by the Minnesota Wild and later played for several NHL teams, described his childhood in an article for The Players' Tribune published Wednesday.
"My father used to beat the shit out of me," his memoir begins.
"I don't say that to be shocking, or to get your attention. I say that because it's just a simple fact. He would throw punches. Not like he was hitting a small child — but like he was in a bar fight with a grown man."
The ex-player describes how his father, John, began abusing him at five years old: "Every day after hockey, no matter how many goals I scored, he would hit me."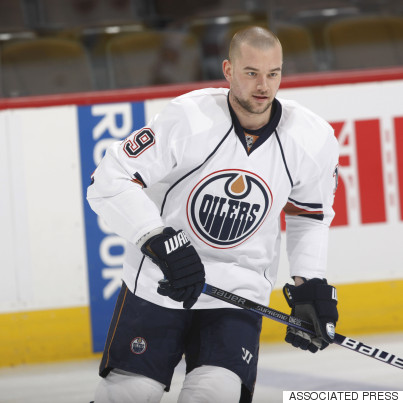 Patrick O'Sullivan, seen playing for the Edmonton Oilers in 2010, started a foundation to help former players. (Photo: David Zalubowski/AP)
It carried on for over a decade: O'Sullivan's dad would punch him, choke him and whip him with a leather skipping rope. O'Sullivan believed it was an ill-directed motivational tactic that would somehow fulfill his own unrealized ambitions of playing in the NHL.
But it was the ice time O'Sullivan used to escape his father — and not the torturous workouts — that led to his success, he says.
O'Sullivan makes a point in The Players' Tribute article of telling parents that kids excel at sports when they're having fun and being creative — not when they're being screamed at or being forced to run six miles.
Read O'Sullivan's full memoir at The Players' Tribute
Encourages witnesses to step forward
O'Sullivan acknowledges that many people in his hockey community — including his mother — saw the abuse, but did not do anything. Today, he implores witnesses to speak up.
"I can understand why a lot of people worry, 'But what if I'm wrong?'" wrote the father of two, who now lives in Florida.
"If you are wrong, that's the absolute best case scenario. The alternative is that child is a prisoner in his own home."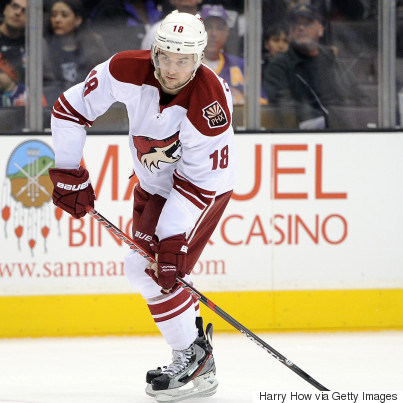 Patrick O'Sullivan, seen playing for the Phoenix Coyotes in 2012, warned hockey parents that torturous workouts don't help young athletes excel. (Photo: Harry How/Getty Images)
Earlier this year, O'Sullivan released a book, "Breaking Away: A Harrowing True Story of Resilience, Courage and Triumph," that chronicled the violence in his family.
The book goes into even more detail, describing how his father once served him a dinner of baked beans and Spam. O'Sullivan recounted throwing it up and being forced to eat it anyway. He was eight years old.
It came to a point where O'Sullivan finally fought back as a teen. He pressed charges against his father, who was eventually jailed for a month. O'Sullivan, who was born in Toronto but raised in North Carolina, was also granted a restraining order.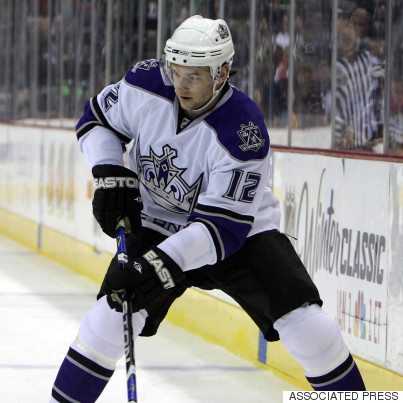 Patrick O'Sullivan, seen in 2008, also played for Los Angeles Kings. (Photo: Jay LaPrete/AP)
"If I didn't put an end to it, like [getting] somebody involved that can handle the situation properly, there was a potential that somebody was going to die," he told The National Post in October.
"That's how bad it was getting, and it was only going to get worse."
O'Sullivan, who was diagnosed with post-traumatic stress disorder (PTSD), has partnered with fellow former player Dan Carcillo to set up Chapter 5, a foundation that helps players adjust to life after their professional careers, Sportsnet reported.
Like Us On Facebook

Follow Us On Twitter

Also on HuffPost:
Facts About The Oilers 1st Stanley Cup Win