OTTAWA — The federal Liberals say they are poised to restore refugee health benefits trimmed by the previous Conservative government.
Health Minister Jane Philpott says an announcement will come very soon to reverse the cuts to refugee health care and, in the meantime, the needs of Syrian newcomers will be covered.
Prior to 2012, anyone awaiting a refugee status decision had their health care costs — including dental, eye care and medications — paid for by the federal government until their application was decided and provincial health coverage kicked in.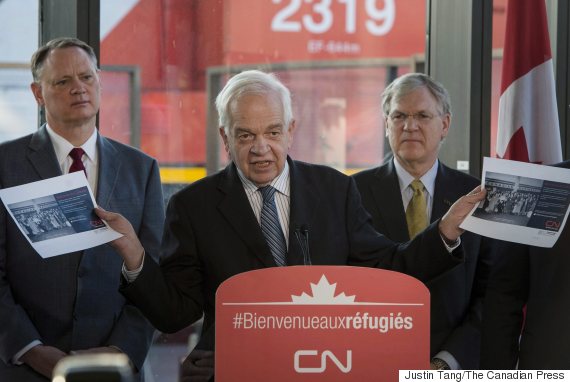 Immigration Minister John McCallum at a press conference in Ottawa. (Photo: Justin Tang/CP)
But in June that year, the Conservative government drastically scaled back the available coverage.
At the time, the government said costs from the program were spiralling out of control because people were coming to Canada to make false refugee claims specifically to get free care.
The Conservatives launched a challenge to a Federal Court ruling that found the changes they had made to the health-care system for refugee claimants were unconstitutional.
They also reinstated some of the benefits, though not all, to comply with the court ruling. Philpott suggested the government would drop the legal appeal in keeping with the Liberal position.
The health minister, who was at Toronto's international airport Thursday night as more than 160 Syrian refugees arrived, said Friday that overseas medical screening is going well. "We are not seeing significant health concerns."
Federal health representatives were also on hand at the airport, where there was an additional arrival screening, and "everyone was in good health," she added.
"We want to make sure that we provide not only for the physical needs of refugees as they arrive, but the mental wellness needs."
"We want to make sure that we provide not only for the physical needs of refugees as they arrive, but the mental wellness needs," Philpott said.
Refugee settlement associations take it upon themselves to ensure newcomers find a physician, and doctors and nurses are all "fully capable" of responding to the mental-health needs of people who may require such services, she said.
"I have every confidence that our health-care system will be able to provide."
Immigration Minister John McCallum said Friday that Canada is still on track to welcome 10,000 Syrian refugees by the end of the year.
He suggested dozens more planeloads of refugees will arrive in the next few weeks to meet the target.
McCallum and Philpott were at the Ottawa train station as Canadian National Railway Co., announced $5 million to support resettlement of the newcomers.
The acceptance of 25,000 Syrian refugees by the end of February is a national project, not a government one, McCallum said.
He urged everyone to do what they can to make the refugees welcome, whether it be cash donations from businesses or homemade greeting cards from children.
ALSO ON HUFFPOST:
Canadian Ministers Visit Refugee Camp In Jordan