Ron Bull via Getty Images
OTTAWA — The federal New Democrats are urging the Liberals to follow the U.S. example and create a special envoy who would promote lesbian, gay, bisexual, transgender and queer rights around the world. The NDP lay out the case for such an envoy in a letter sent this week to Foreign Affairs Minister Stephane Dion. U.S. President Barack Obama had a special envoy created earlier this year to promote LGBTQ rights around the world through diplomatic channels. The American envoy, Randy Berry, started on the job in April.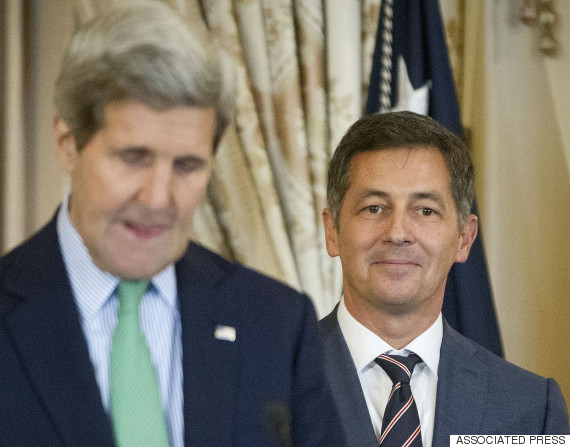 U.S. Secretary of State John Kerry announces Randy Berry, right, as the first-ever special envoy for LGBT rights, Friday, Feb. 27, 2015. (Pablo Martinez Monsivais/AP)
The NDP say creating a Canadian envoy would mark a return to Canada's "traditional role as an international defender of diversity and equal rights."  And New Democrats say it would send a "strong message" to the LGBTQ community in Canada and other countries, some of which have laws making it illegal to be gay. The NDP letter is part of the party's push to make itself the opposition voice on LGBTQ issues, part of NDP Leader Tom Mulcair's hope to brand the third-place party as the "progressive opposition" in the House of Commons. Mulcair raised concerns about not excluding gay and transgender Syrian refugees when the government was set to unveil how its refugee screening plan. This week, the NDP reintroduced a bill that would make it illegal to discriminate on the basis of gender identity, which may not match a person's sex at birth.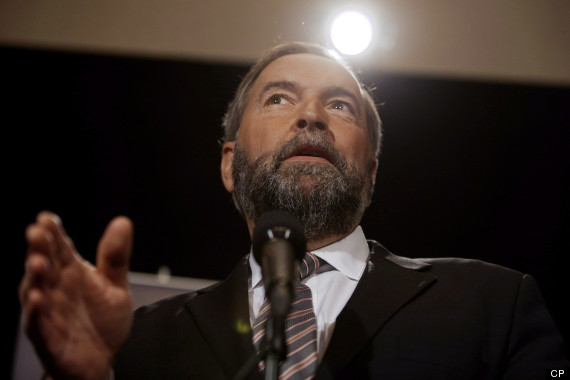 NDP leader Tom Mulcair. (Photo: The Canadian Press)
A previous version of the legislation passed the House of Commons more than two years ago in a close vote, and then wallowed in the Senate for months before Conservative senators made sweeping changes that the NDP said amounted to a gutting of the legislation. The bill never became law. The new bill will still have to make its way through the Commons and then to the Senate — where the same group of senators would review and vote on it again.
Also On HuffPost: