German photographer and model Silvana Denker is making it her mission to spread #bodylove.
On the streets of Berlin this past Tuesday, Denker photographed eight women of different body shapes, sizes and ages in nothing but their underwear and bras. The photos are part of a new series entitled #Bodylove — a public showing of diversity and "how women look in reality." Fostering a greater tolerance and acceptance for the female body (and sometimes male), the project has become a way to challenge mainstream beauty standards and body shaming.
"Nobody's perfect and that's what makes us special. Love yourself," Denker tells her more than 5,000 followers on Instagram, a place where she shares many shots from the series. The models, who were all cast via an open call on Facebook, each have a letter written on their stomach, spelling out the word "body love." Individual shots show hashtags markings written on their bodies, such as "#ImBeautiful," "#LoveYourself," "#NoHate," and "#BodyAcceptance."
In an interview with Mic, Denker says the idea for the project came when photos she took for a plus-size magazine were retouched.
"I took pictures of nude plus-size models to show that every body is beautiful, but the pictures were retouched [for the magazine]. Unfortunately the magazine changed the concept so the pictures didn't fit anymore, and so I decided to publish them by myself and posted [the] first pictures on Facebook," she explains.
The first shoot for the campaign came after Denker realized she needed to take that idea to a more public space.
"You need to get attention, and so I did the first shoot in the pedestrian area of a city called Siegen near my hometown [in Germany]" she says. "I also stopped retouching the photos because I wanted to show how women look in reality, small, big, tall, little, with stretch marks, with a belly after giving birth, etc."
The series, which launched in October and has been welcomed with a flood of supportive comments, has already hit the streets of five German cities, including Hamburg and Cologne, with sights on Stuttgart next. But Denker is hoping her project will become a global phenomenon and dreams of shooting the series on Times Square.
"I hope I can make it an international campaign for more acceptance and against body shaming," she writes on Instagram.
We say, she's off to a good start.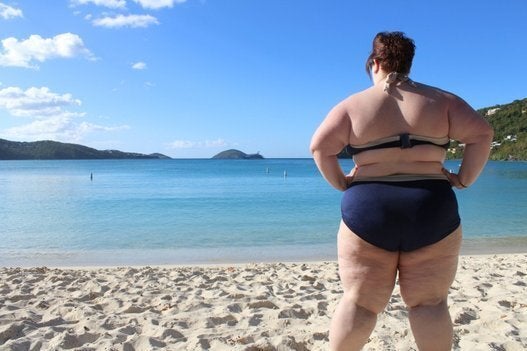 We Exist: Diversity In Plus Size Bodies