TORONTO — A new report says Ontario has become a "major hub" for human trafficking and sexual violence in Canada, with most of the victims being local underage girls and young women. The report by a provincial legislative committee is calling on the Liberal government to increase funding for the justice system and create a co-ordinated, province-wide strategy.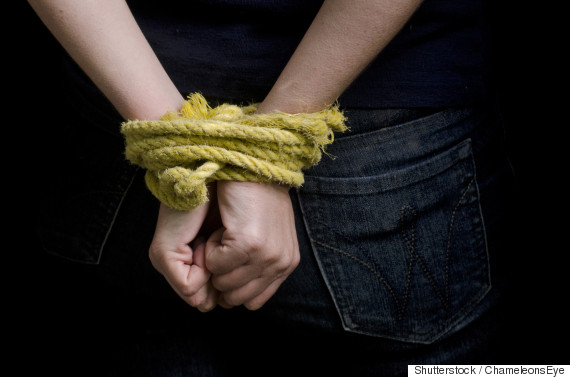 The committee heard from 147 women across Ontario. (Shutterstock)
"These young women, girls really, underaged girls and children, are being forced into sex work in our cities and towns, and they really are the girls next door," said Progressive Conservative MPP Laurie Scott. The government should provide the same sort of dedicated funding for an anti-trafficking task force as it did for Toronto's 'Guns and Gangs' initiative, Scott said. The committee, which issued its report on the final day of the fall session Thursday, said human trafficking for the purpose of sexual exploitation is the most common form of trafficking in Canada, and Ontario is acting as a "major" hub.
"They really are the girls next door."
"We need to send resources to law enforcement and to the justice system so there is a concentrated team that works throughout the province, because these girls are trafficked widely throughout the province on a daily basis," said Scott.  The committee travelled across Ontario hearing stories from 147 women who were victims of rape or sexual harassment. Committee members, including two former nurses and another who worked in a rape crisis centre, said despite their experience they were often in shock listening to women tell "gut wrenching" stories of sexual assaults. "I don't think any of us were prepared for what we heard," said New Democrat MPP Peggy Sattler. "It was very difficult to control our own emotions as we watched survivors struggling to hold back tears as they relived the pain and trauma of what they went through."
"I don't think any of us were prepared for what we heard."
Tracy MacCharles, the minister of children and youth services who is responsible for a sexual violence and harassment bill that is now before the legislature, said the committee's recommendations, including the call for a task force, will help strengthen her bill. "I'm open to all good ideas on this," said MacCharles. "I'll be sitting down with the premier on this." Liberal Daiene Vernile, who chaired the committee, said it's up to the government to decide how to proceed, but she wants to make sure the recommendations are implemented. "For many witnesses, it was very difficult for them to appear before this committee, and reliving the trauma of being violated," she said. "But they did so hoping that there would be some kind of positive outcome, and we don't want to let them down." The committee found almost 60 per cent of sexual assault victims in Canada are under the age of 18, and a quarter of them are under the age of 12. Most victims — 92 per cent — are women, and the overwhelming majority of attackers — 99 per cent — were men. It also found Ontario lacks up-to-date statistics about the incidence of sexual harassment and childhood sexual abuses, and doesn't have a standardized system to track cases of human trafficking. Follow @CPnewsboy on Twitter
Also on HuffPost