Travelling in Europe can be a rite of passage for young adults, but for Menna Kebede, it was a matter of survival.
At 19, Kebede fled civil war in her homeland of Ethiopia and spent about a year wandering Europe "similar to how the Syrian refugees are now spending time in Jordan and Lebanon," she recalls in an interview with The Huffington Post Alberta.
In 1992, she landed in Calgary as a refugee, joining her brothers who were already in the city.
"Resuming my studies and getting back on track," she remembers were her priorities. "And, of course, being young, so finding friends."
How Kebede was welcomed and supported in her new home has defined her life in Alberta — and it's why she's working so hard to help Syrian refugees build new lives in Calgary.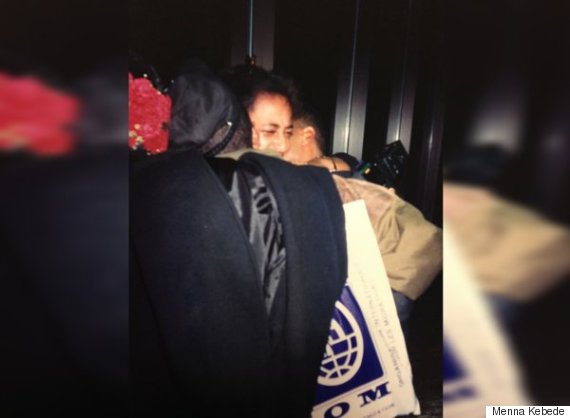 Menna Kebede embraces her brothers at the airport as she first arrives in Calgary. She says this photo is one of her most treasured possessions.
The Calgary Catholic Immigration Society, which sponsored Kebede more than 20 years ago, is one of the City of Calgary's partners in sponsoring and resettling Syrian refugees.
The group helped Kebede get back into post-secondary education, and identified volunteer opportunities at the YWCA and the Immigrant Women's Association for her.
"I could volunteer while at the same time meet some new people, develop some Canadian work experience," said Kebede.
In fact, it's her primary piece of advice to newcomers because volunteering allows them to practise a new language, meet friends, and be part of a community.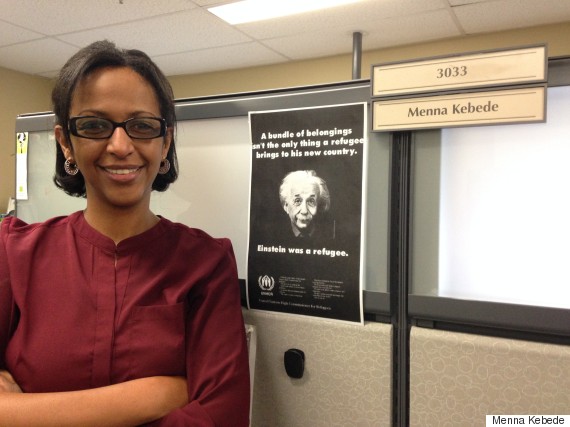 Menna Kebede stands next to a UNICEF poster with her favourite quote: "A bundle of belongings isn't the only thing a refugee brings to his new country. Einstein was a refugee." (Photo: Menna Kebede)
Those early volunteering experiences led Kebede to pursue a master's degree in social work. She now works for the city, overseeing funding for non-profit organizations that support Calgarians (old and new) facing social isolation and poverty. Those same groups are gearing up to accept 1,300 Syrian refugees that will arrive in the city over the next few months.
Kebede says there are many ways to make the new Calgarians feel welcome.
Aside from donating money, food and winter clothing, there are simple ways to connect face-to-face with new families. Kebede suggests offering to have them over for dinner, and taking them to the zoo or to the movies.
"These are all activities that are new for people coming from refugee camps. So just an evening out with one family will make a huge difference," she explains.
"This is exactly the generosity that makes me stay in Calgary."
Calgary boasts some of the highest numbers of privately sponsored Syrian refugees in Canada.
"This is exactly the kind of activity that makes me feel very proud to be here," she says. "This is exactly the generosity that makes me stay in Calgary."
How to support or sponsor Syrian refugees in Alberta:

Like Us On Facebook

Follow Us On Twitter

Also on HuffPost
Pictures Inside A Syrian Refugee Camp In Jordan