After finding out their home had been broken into, an Edmonton couple is sharing a message of understanding and support for the culprits.
When Melissa and Leighton Sealey returned to their home in the neighbourhood of Dunluce on Dec. 7, they immediately noticed something was wrong.
"The fridge and freezer doors were open," Melissa told The Huffington Post Alberta. "We wouldn't have left them like that."
The couple's north Edmonton house had been broken into, but what really caught their attention was the kind of items that were missing.
"French fries were taken from the freezer. Snap peas, other foods," said Melissa. She also noticed "professional" clothes and shoes were gone — "like you'd wear to an interview" — and someone had taken specific shades from her nail polish collection.
"I think it was out of desperation. They aren't bad people."
Unfortunately, the thieves also stole some larger items, including guitars and a camera with irreplaceable photos saved on SD cards.
Melissa said the card contained photos of her daughter as a baby and her son when he was in the hospital. It was their only copy, she said.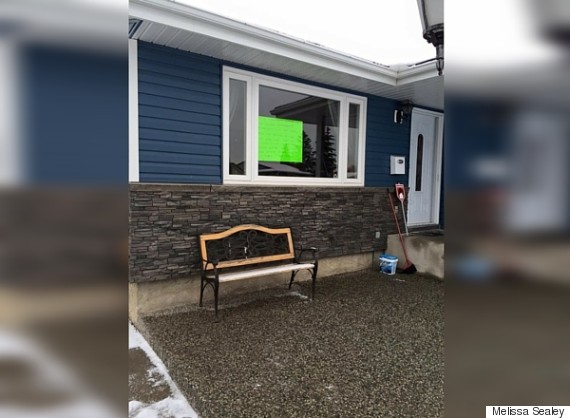 A sign posted in the Sealey's window reads: "To those who robbed us on Monday, Dec. 7: A reward will be given for the return of the SD cards that were in the camera and the camera bag. Please return them as they have pictures of our kids on them. Thank you!" (Photo: Melissa Sealey)
The couple are pleading for the thieves to return the camera's SD card. They say they will be happy to offer an reward or help.
They're offering to the person or persons responsible to not involve the police if they step forward and return the cards.
Melissa said she and her husband would happily offer the culprit groceries or money in return, or help them to get a holiday food hamper from their local church.
"We understand," she said. "We just want our photos back."
Like Us On Facebook

Follow Us On Twitter

Also on HuffPost:
5 Answers From Edmonton Mayor Don Iveson's AMA