Toronto Mayor John Tory says it would be impractical for the city to try to shut down Uber, which is preparing to launch another ride-sharing service called uberHOP on Tuesday. UberHop will be a rush-hour, carpool option that links some of Toronto's busiest neighbourhoods to the downtown business district for a flat $5 fee. Tory says there's no point trying to judge if Uber's expansion is good or bad for Toronto, and calls it another convenient and affordable option for consumers and a marketplace response to a reality.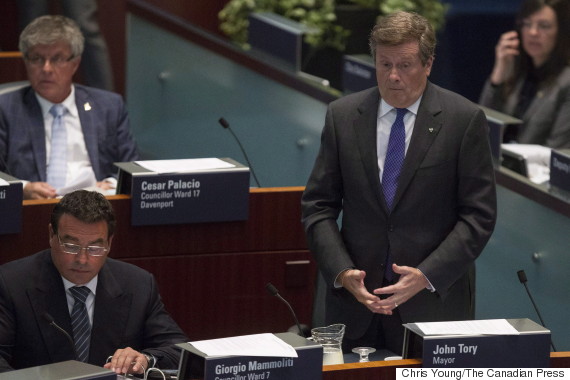 Toronto Mayor John Tory speaks in council chambers. (Photo: Chris Young/CP)
He says Uber has over 300,000 users and 15,000 drivers in Toronto, and it would not be practical to try to force the company to cease operations until new regulations are enacted. Tory says lawyers are gathering more evidence about Uber, but so far are not recommending the city make a second attempt for an injunction to shut it down. Hundreds of cab drivers tied up traffic throughout Toronto's downtown core for about 12 hours last Wednesday to protest Uber's ride-hailing service and demand the city enforce its bylaws.
Wynne: 'This is part of a sharing economy'
Ontario Premier Kathleen Wynne says technology is helping create many new services, and governments must determine how best to update regulations to ensure fairness and safety. "This is technology that exists, it's a reality, and our responsibility is to make sure that we keep up in terms of keeping clients safe and having the regulations in place," Wynne said after meeting Tory. "This is part of a sharing economy that is posing challenges to the status quo...and we need to make sure people have efficient, effective and safe services." Canada's taxi industry launched a new app Monday called "The Ride" that offers passengers a more tech-savvy way to connect with local taxi cabs, but unlike Uber, it will add a $1 or $2 charge from your wireless provider. Follow @CPnewsboy on Twitter The Canadian Press